la·zy (la zee)
adj. la·zi·er, la·zi·est

1. Slow-moving; sluggish.

2. Conducive to idleness or indolence.
3. Depicted as reclining or lying on its side.
4. Resistant to work or exertion; disposed to idleness.
I have been very lazy lately – the weather is changing, trying to get into the new job and finding less and less time to blog.  This is a sad state friends!  I still listen to music, but simply have not been writing about too much of it.  I have been falling back into my favourites and listening to playlists via commute to and from work each day (what else am I supposed to do with those 3 hours in traffic?).  So I have been listening a lot to The Black Atlantic, Mumford & Sons, Laura Gibson, Matt Dill, Doby Watson and even The Cure!  So its been great just listening to music again.  Well enough of my boring and lazy shite, let's look at others around my circle-o-bloggers who are posting great stuff.
Newcomer into the fray, and someone after my own heart – online bud "Orange" has started a Slowcore meets Folk music blog.  It's Called Common Folk Meadow and its great!  Visit for some great tunes – notably the Haruko live and the Emilie Lund EPs, both of which are free!
Song, by Toad has the Mumford & Sons Video for "White Blank Page" HERE.  This track has been around for soo long and I am glad everyone is on board – this M&S album is frickin' stellar and comes very highly recommended.  The Toad also was broadcasting a live show from Toad Headquarters (his home) – very cool.  I think I need a house party at my place…I could call it Folk the Cul-de-Sac or something!!
Did you all check out the extensive and overly long interview (HA, just kidding Tart) that Love Shack, Baby has with the Antlers?  For shame, check it HERE.  You Chicago-ians (and everyone else) need to bookmark – Tart is in touch with the scene friends.
Captain Obvious has his September Mixtape posted – if you follow them, you need to pick it up as it is full of talent such as; Miles Benjamin Robinson, Dan Mangan, Port O'Brien and more.   Visit HERE for the 14 (!) tracks.
Aquarium Drunkard posted an August performance of J. Tillman in Sacramento.  You can really find the new Tillman persona with full band, then stripped down sound – the guy is great.  Visit HERE for the show.
My East Coasters, Herohill posted on the new OX album "Burnout" – also loving it over in the West….  Visit "the rock" HERE for the low down.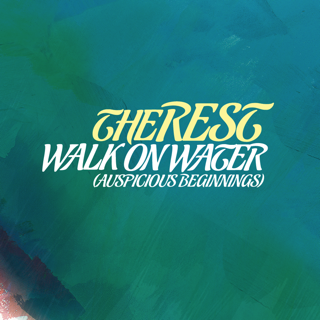 I also received the "new" EP from The Rest called Walk on Water, a Canadian post-indie-rock outfit out of Hamilton, Ontario.  The EP is not exactly "Slowcoustic" but definitely epic and more than worth a listen.  There are shades of Arcade Fire with title track "Walk on Water", the beautiful and powerful "The Close Western" in which I feel I need a pair of headphones while I sprint into the dusk, it just makes me want to move!  You can also slow it down with the late night pain of "Drinking" and the EP even has a cover of Robyn's "With Every Heartbeat".  WOW.
The band is now signed to SIC records and if you haven't heard their sophomore full length, definitely pick up "Everyone All At Once" for more from The Rest.  This has been a band to watch for at least a year now and I hope to see what is upcoming for this troupe.  If you are in the London, UK area you can even check out a few shows in the next couple of weeks – dates on their MySpace page.  Enjoy a couple of tracks below!
"With Every Heartbeat (Robyn Cover)" – The Rest – Walk on Water EP
"Drinking" – The Rest – Walk on Water EP
"Modern Time Travel (Necessities)" – The Rest – Everything All At Once LP
~Smansmith