Pregnant Bride, Headless Groom, Dead Bunny...check x 3. New Video from Cold Specks!
Read More →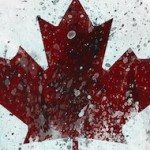 Some Canadian Content for your Friday, July 1st... Well, what were you expecting? New stuff from Deep Dark Woods, Gordon Lightfoot tribute and NXNE vids!
Read More →
So I am not one for actually "celebrating" whatever holiday it is.  I guess I am either complacent or I just don't care, wait…  No seriously, I might be more of a "Hey,...
Read More →