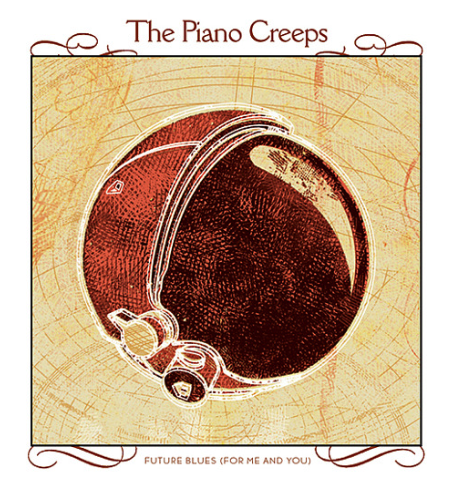 The Piano Creeps, is just that – what your mind's eye might think a "creeping" piano might actually sound like.  If you are a bit confused, it is the beautiful sound of this trio from Ithaca, New York.
So, the sound.  Think of a soundtrack to a movie that plays just a little too slow – but the music is right on cue…like everyone should be doing that slow motion walk when the music comes through and you know the credits are about to start.  At least that is something that comes to mind with the indie-shoegaze-pop tracks included on the album.
The Piano Creeps consist of Billy Cote, Kathy Ziegler and Mary Lorson (all from other projects, coming forth as a united front to form TPC).  The vocals from the female fronted trio form ambient bedroom lullaby songs to soothe even the most hectic of you indie loving folks.  Sometimes you just need to listen to something that you can breathe to – although this happens a lot around this blog, you must get what I mean.
The album is recently released (Oct. 14th) from Kora Records (Gregor Samsa, Meredith Bragg among others) and can be purchased through the Kora website as well as iTunes and Amazon for you listening pleasure.
I have one track "Stoned" for streaming and one track "Hey Love" for download – both are samplings of what this album oozes.  "Stoned" brings slow methodical acoustic pop with an almost Country feel and "Hey Love" has that lullaby feel mentioned earlier – perfect examples of this new find (for me at least). Now, relax…breathe it all in.
~Smansmith