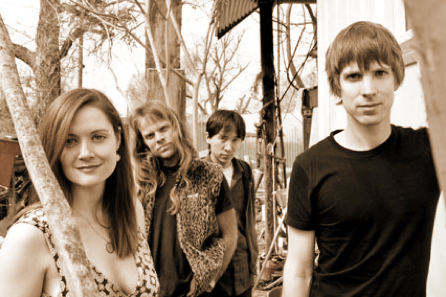 Part two of the Slowcoustic "Essentials Series" with the phenomenal Shearwater.  While not extensively all mopey singer songwriter material that many might expect for Slowcoustic – this is some great down-tempo stuff – you will find something on every single album since their beginnings in 2001 that is worth calling a favourite.
The beginning as mentioned in 2001 was a creation in "indie" heaven and Shearwater was a spawn of Okkervil River's Will Sheff and Johathan Meiburg.  Sheff was part of Shearwater until May of last year before leaving to continue with Okkervil River.  While I believe the separation was amicable, despite what press would think makes a better story, both bands were just simply getting bigger – it is just too hard to be in two bands at the same time – understandable…right??  No seriously, while Sheff was integral to the band, they are doing a good job "on their own" if I do say so myself.
While they have slowly grown to a fuller "band" sound from "The Dissolving Room" to "Rook", the sound is very recognizable as still being Shearwater…maybe it is the voice of Jonathan Meiburg (which one could say IS their signature sound).  While many netzins of the blogosphere may concentrate on Palo Santo album as the beginnings, you must hit the earlier stuff  – it is the intimate, pained and hauntingly gorgeous stuff that won me over to them in the first place.  Just to make sure, when I say "intimate", don't think sparse (although they can be), Shearwater can have such a full sound that is enveloping and warm enought that you just want to crawl inside of.
While I do consider Shearwater to be a Slowcoustic Essential, you might ask why "Rook" didn't make my best of 2008 album list.  Well, do not get me wrong, the album is great and there are songs that I believe can make it on my "best songs of 2008" such as "Leviathan, Bound" or "Rooks" – I just didn't delve into it as much as the library of their complete works…it will most likely grow on me and become a classic like the rest of their material.  Now don't make me feel bad about not putting them on the list….
Maybe I should watch this performance from the Retread Sessions a bit more and it will convince me – great Palo Santo performance;

Shearwater – "Palo Santo" from Retread Sessions on Vimeo.
Check out your "essential" shopping list below;
The Dissolving Room – 2001 / Grey Flat

Everybody Makes Mistakes

– 2002 / Misra
Winged Life – 2004 / Misra
Sham Wedding/Hoax Funeral – 2004 / Jound /

CD Split

with Okkervil River
Thieves – 2005 / Misra / EP
Palo Santo – 2006 / Misra
Rook – 2008

The Snow Leopard EP

– 2008
So make sure you check out Shearwater because if they are not a favourite of yours already, they should be.
~Smansmith
Shearwater

"An Accident" (mp3)
from "Everybody Makes Mistakes"
(Misra)


Shearwater

"Room For Mistakes" (mp3)
from "Everybody Makes Mistakes"
(Misra)
More On This Album
Shearwater

"Whipping Boy" (mp3)
from "Winged Life"
(Misra)
Shearwater

"Wedding Bells are Breaking Up That Old Gang of Mine" (mp3)
from "Winged Life"
(Misra)
More On This Album
Shearwater

"I Can't Wait" (mp3)
from "Thieves"
(Misra)

More On This Album