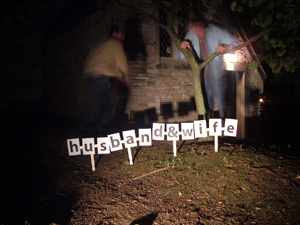 I have previously posted on husband&wife (yes, there is no space in the band name – it is like its one word) and I have been advised that today (Jan. 29th) there will be an appearance from h&w on the indie hit-maker Daytrotter.  This is exciting, I think the new album (due on Feb. 24th – mark your calendar) entitled "Dark Dark Woods" is going to be a must have.
You get 11 tracks of mellow indie soundscape.  I say soundscape as there is an aura created on the album that flows through most, if not all of the songs.  I am one to not use flash and diversion in my music listening.  I enjoy my jams to be straight forward, honest and the type of music that creates an atmosphere.  You have it in spades with their newest album.  I know I compared h&w to Death Cab for Cutie in the aforementioned post and I think it can hold up, if you think of Transatlanticism-era Death Cab.  More so the title track from the DCFC album created this melancholic and immense sound – both introspective and all encompassing.  I find this the thread that joins the two for me.
Stand out tracks from the album are "Comp Jam", "England Lives" (personal favourite), "Thanks For Understanding" and "Haven't Got A Friend".  As with most albums, there are moments where my vision strays from the album – songs like "I Got Fat" create a more "Indie-pop" feel with use of horns and a snappy(er) bass line.  They then follow that up with some almost alt-rock leanings on "Red Cross Fever" and it works!   Overall, this is a solid album and comes recommended from yours truly.  Whether you are pining for the new girl/guy in class, cleaning the apartment on the weekend, cruising around Friday night looking for a place to crash – this album has something that could back your every move.
My previous post included a couple of songs in video form and I include the last of the 3 Vimeo performances here for "Thanks For Understanding" – this is where I hear DCFC – check it below:

husband&wife – Thanks For Understanding from Crossroads Of America Records on Vimeo.
The above video is a live performance in the studio of Community Access Television Services Incorporation in which I posted two more on my previous post.  Enjoy a couple of tracks from the album below.
You can catch up with husband&wife on their Website, MySpace Page and their Label Site.
~Smansmith