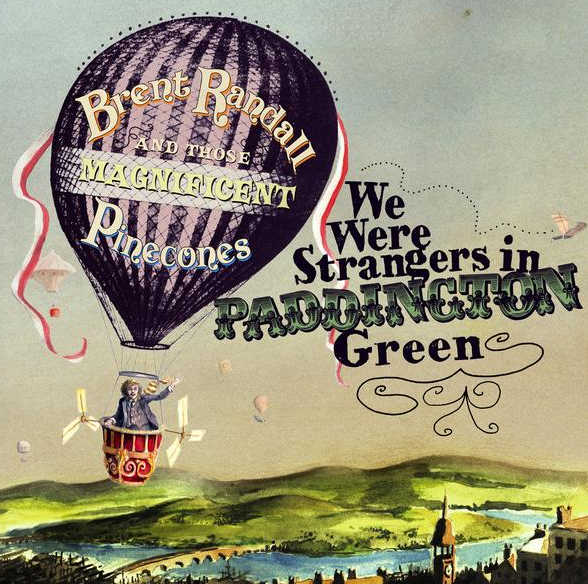 So to further my effort for a bit of a "pop" infused Saturday, I bring another pseudo brit-psych-pop group, but this time from Halifax.  Come on seriously, it couldn't be anything other than that with the album cover above, could it?
In all honestly I am trying to not be as much as a purveyor of Sad Bastard Music as I usually am because I just started my vacation.  Damn, this is feel good time.  While Brent Randall and Co. might not be jump out of your seats and sing hallelujah, it is a bit more uplifting than much around the cold echoing corridors at Slowcoustic HQ.  If that didn't sell you on what I am about, the tours start at 11am, don't forget your Valium.
Okay, back to the album!  The "We Were Strangers in Paddington Green" is almost an epic theme album – it is as if the album is a journey of a pop infused singer songwriter that has just slightly lost his way down the path to…somewhere.  With almost-ballads like "Daylight", to the piano and strings of "Lions Valley" among many more, there is a wide selection – but not too wide as it still all fits together.  There has been comparison to a certain British influence (The Beatles if I have to say it) when discussing the songwriting/song crafting of this album, and yes you definitely feel it.  This is one of the reasons it is almost a concept album as it definitely has a core of eccentric crooning songwriter who floats piano hooks through each finger (almost haunting description, thank you very much).  While you feel that this might have a fair amount of tongue in cheek, there is still a little place inside of all of you that will find yourself tapping your toes and humming along.  This is also an album that is played in full, sure you can have your favourite track, but listen as a whole on a lazy day when you are looking for a bit of a lift and you don't need to be too serious.
"Strange Love (Don't Be Lazy)" – Brent Randall & His Pinecones – from 2009's We Were Strangers in Paddington Green
Enjoy a video for the above track as well!
Visit BR&HP at MySpace and his (their) Website.
Don't worry folks, it will be back to whiskey, lo-fi, acoustic stuff soon….it's still me after all.
~Smansmith