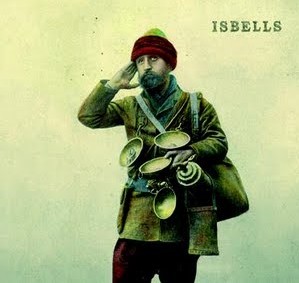 This new discovery and album is one that found its way to my inbox from one of my very good Spanish (EDIT, the actual friend is from Spain!!) friends.  I don't know why Europe has such good taste in music and people (Do the Germans know my wife is German???  Maybe that helps…) but they seem to just be the right people to talk to when you are looking Slowcoustic.
This album "Isbells" is the self titled new release from Isbells (obviously) over on Zeal Records this past October 23rd.  Isbells are not Spanish or German like I might have lead you to believe, but are based out of Belgium (where my wife lived for a year) and is basically the nucleus of Gaetan Vandewoude who has settled down to create his own brand of folk pop/singer songwriter type recordings.  During the process of becoming a recording artist the band "Isbells" actually formed with the combination of Vandewoude and co-horts: Naïma Joris, Bart Borremans, Gianni Marzo.   I don't actually know much more than this other than the album is quite enchanting and I have found it to be a nice end of year surprise.  If you enjoy a nice late night, or not so late night album of harmonies and great song crafting (i.e.  it is not the normal "overly dark and brooding" stuff I usually peddle around here) this is definitely an album to look into!
"Time's Ticking" – Isbells
Please consider hitting up Zealrecords on MySpace to pick up an album via Paypal for a lousy 10 Euro (or 12 to us non EU folks), you can't go wrong.
~Smansmith