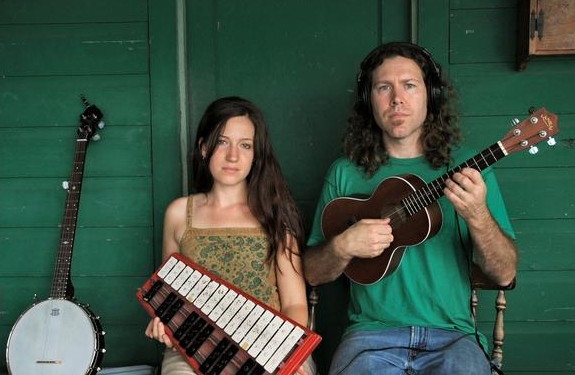 I have been meaning to post on Arborea (well more than last time) and it keeps getting away from me.  I don't know why as they would have been one of my top choices to see at SXSW this year and they play tonight!!  They are playing at 9pm at St. David's Church/Bethel Hall and you should try and make it if you can.
Arborea are Shanti and Buck (both a duo in music and life) and they bring you great traditional folk with a tinge of fringe if you know what I mean.  They are a bit ambient and masters of creating atmospheric psychedelic acoustic music.  There last album was re-mastered (House of Sticks) and is highly recommended for something that is haunting, beautiful and can make you stop in your tracks.  Take a listen to a couple of tracks to get an idea:
"Dance, Sing, Fight"
"River and Rapids"
Both remastered for the "House of Sticks" album
"Son Of The Moon, Daughter Of The Sun" – Arborea track from "Leaves of Life" compilation (Buck actually curated this for the relief programs at the UN World Food Program and the full compilation included Alela Diane, Devendra Banhard, Marissa Nadler among them!).  Find it over on Darla Records HERE.
So basically, do your best to get out there and see them – you will not be disappointed!
Bonus video:
Wow!
~Smansmith
p.s. bonus:  find their interview for SXSW 2010 with AOL by clicking HERE.