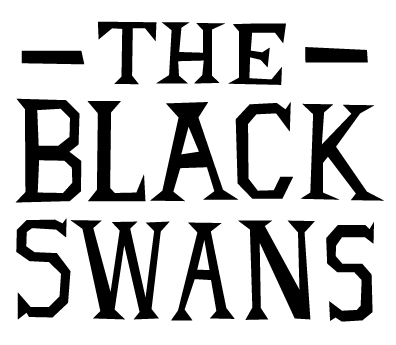 The Black Swans are a band that to be honest, I haven't listened to much.  I don't really know why.  They seem to fit what I like to listen to and what others have to "be in the mood for", so what the hell?  Well, I recently received an email from them due to a recommendation from two other artists that I really enjoy, so again…what the hell?
While I am aware of The Black Swans, I just didn't give them enough time to sink in.  At first listen they can seem a bit like "doom folk" and similar to a lo-fi/indie Boduf Songs (you know, a post-folk tinged horror movie soundtrack).  But dig in and really listen to them – this is what I am now doing after watching the below video from the new album "Words Are Stupid" (vinyl & download only) and finding myself knee deep in the epic "Shake" from their previous album over on La Société Expéditionnaire (see here).  Check it:
The Black Swans "Language Tenor" from Words Are Stupid from The Black Swans on Vimeo.
~~~
From the album "Change!" – listen to "Shake" (mp3).  While this track may seem like a wall of sound at times, really listen as it is quite delicate as well.  That violin just hits the spot.  Recommended.
So if you are able, I recommend the new vinyl (only 200 copies were pressed from St. Ives) or hit up some links below for other albums and the digital options for "Words Are Stupid".  After reading that this album's journey started only a year after a member of the band Noel Sayre's passing with the help of some of his "incidental music" and recordings of his "violin", I had to listen.  This album is still very fresh for me and I can't speak to it as a full project, but watch the video above, get a grasp on The Black Swans as there just might be another album released this year (entitled "Don't Blame The Stars") – and you want to be in the know right?
Visit and Purchase The Black Swans:


~Smansmith