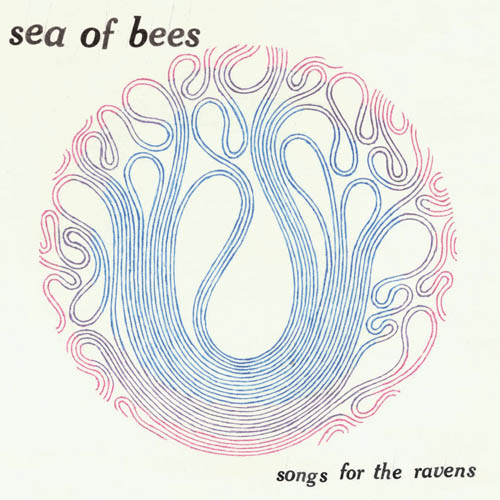 Sea of Bees (Julie Ann Bee) has a new album coming out next week (June 1st, 2010 to be exact via Crossbill Records of which I am a fan of) and so I thought I would provide the journey of one of the tracks from this new album: Willis.  So I think it will also be my Song of the Day this Friday.
Willis is a great indie pop track set for an early fall day:  it still has the energy of the summer but it also shows something additional in its sound by not being "fluffy" or like just another throw away pop track.  I first heard Willis on the fantastic EP "Bee Eee Pee" that comes in a touch longer (maybe due to it being more DIY) and feels like something that might be heard predominantly in an 80's teen flick love scene – its great.  It is the beat along with the pulsing keyboards and an almost rainy day delivery of the tragic lyrics.  If that makes sense.
I then found a nice live take from the Luxury Wafers session she did last year (see here) – which saw the song starting to grow legs and walk into maturity by replacing the synth sound of the keyboards with some piano.  And it works really well.  I really like this version – she really hammers on the keys at times, it seems like the song has grown into its own, possibly along with this Bee.
Now, the most recent version we have is a more "polished" take from the new album "Songs for the Ravens" (as I mentioned earlier, is due out next week).  While the album as a whole starts to move away from that DIY experience on the EP – which is still a bit new and it is still growing on me.  The song has definitely seen some additions with the sound being much fuller – but Julie's voice is still there, and it is still lovely – if not more subdued and under control.  Let's hear what you think on the progression of a song – give us a holler in the comments on your preference!
"Willis" – Bee Eee Pee EP version
"Willis" – Luxury Wafers Session version
"Willis" – Songs for the Ravens version
Visit and purchase Sea of Bees:
~Smansmith
p.s.  Swing by Crossbill Records for the lead off track "Marmalade" from the album as well!
p.p.s.  How about a video of "Willis" from that Luxury Wafers Session?  Okay then, see below:
p.p.p.s.  When you pick up a copy – make sure to listen to "Blind" – my current favourite track on the new one…and of course "Willis"…