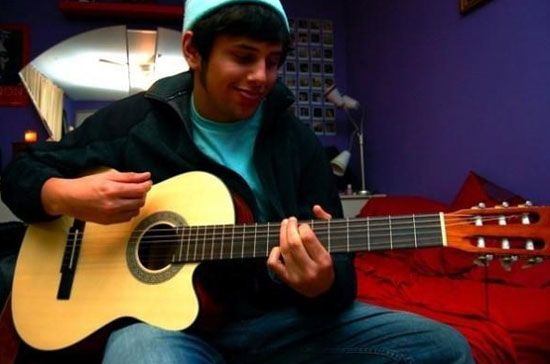 So looking for a Michigan singer-songwriter who clearly is someone you both want to hang out with and listen to?  Well, for all of you that are not (or are) Michiganites/Michiganers/Mittens, you have the guitar strumming of Joe Hertler to help if you are lacking.
Joe Hertler's music is why we are here and Joe has the songs that cause you to almost enjoy life (despite what the subject matter might be) and I like it.  I thought of Joe when I posted that Frontier Ruckus piece earlier today (as they are from Michigan and he has shared the stage with them previously).  I do think that the obvious choice right now is a song like "Welcome to Michigan" for it's appropriateness – and here we go.
So, now you are welcomed, what else is there?  Well there is much more from Joe on his Bandcamp page – notably the fantastic "the Hard Times LP" that can be downloaded for "name your price" (which includes free you cheapies…  just kidding, I love all of you).  So let's have another taster before you head over for a download of this young talent.  You can't help but want to sing along, the hook in the chorus is almost bullet proof and I am always a sucker for acoustics that bring harmonica to the party.
Take a moment to stop by and visit Joe Hertler:
~Smansmith