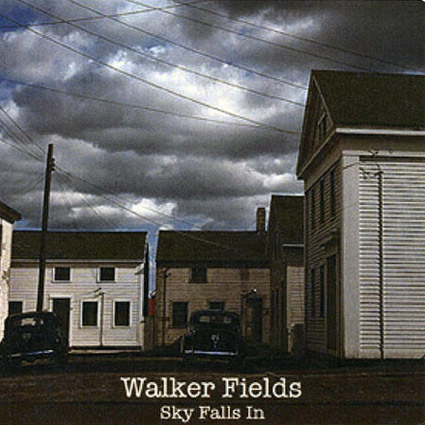 Walker Fields is described as a "musical project by singer/songwriter Brad Senne of Minneapolis, Mn. Playing with a revolving cast of musicians.  Walker Fields explores the realm of folk, Americana, and blues tunes."  The "new" album is called Sky Falls In, and as I am already a fan of Brad Senne, I had to check it out.
The album is mostly singer songwriter of the dust bowl style of folk-Americana, so we already know I'll like it.  It has its fair share of the lone acoustic laments that I absolutely love from Brad Senne (if you haven't picked up his "Aerial Views" album yet, you are missing out – so click here).  Songs like "Dead & Diseased, "Stormy Weather", "Hold Me Still" and the below "It's Not Me" are stand outs for me personally.  Even the opening track "Old Machine" is one that you could see a Mathew Ryan singing…and this bodes well for this new project of Senne's.  Also, there is more than the slow burners performed on the album as Walker Fields does kick it up a notch on a few tracks, so all you "rockin" types can enjoy a couple of tracks from "Sky Falls In" as well.
Listen: "It's Not Me"
You can ignore the above as needed and simply read what Senne has to say about Walker Fields.

Bonus: Watch a live performance of "It's Not Me" below.
Find Walker Fields on MySpace, Reverbnation, Facebook
Purchase Walker Fields on eMusic, iTunes & CD Baby
~Smansmith