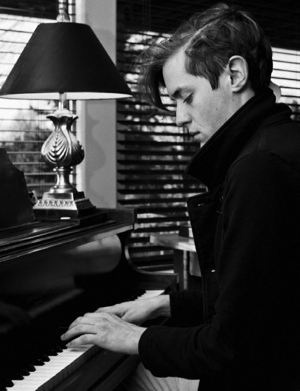 Small Houses (or Jeremy Quentin) has started to fly all through my radar with new videos literally flooding the interweb.  I am not complaining because since I first started listening (see a previous post here) and being known to enjoy an acoustic track by Michigan singer songwriter, I can't get enough of Small Houses.  There have been some videos recently showing up via Mostly Midwest, Urban Agrarian and even from the band itself.  Take a moment, watch a tune and listen to what's new to me in the "up and coming" category around Slowcoustic HQ.
~~

~~

Small Houses – "Late July" from Spencer Wells on Vimeo.
~~

Small Houses Bridgehouse Session Bonus from Mostly Midwest on Vimeo.
~~

Small Houses is featured on a pay-what-you-want compilation mixtape from Mostly Midwest with the track "Late July" – Pick up "Mixtape #1" here!
~
Tour Dates
1/23/11- Monk's- Pittsburgh, PA
1/24/11- Labyrinth Press Company- Jamestown, NY
1/25/11- The Bug Jar- Rochester, NY
1/27/11- The Monkey House- Burlington, VT
1/28/11- Slainte Wine Bar- Portland, ME
1/29/11- The Whitehaus- Jamaica Plain, MA
1/30/11- The Nightlight- Cambridge, MA
2/01/11- T.T. The Bears- Cambridge, MA
2/03/11- Sidewalk Cafe- New York City, NY
2/04/11- Trackside Teen Center- Winton, CT
~
Find more Small Houses: Website, Facebook, MySpace and stay up to date with Twitter.
Purchase Small Houses: iTunes, eMusic
~Smansmith