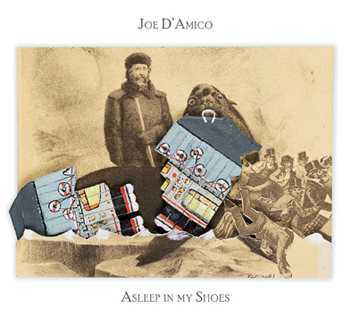 Joe D'Amico is a Philidelphia based artist that his currently in the process of releasing his album "Asleep In My Shoes".  He is doing such by giving away a track each week on his website (so far at least)!  I started listening to Joe as he is sharing the bill on a triple album release party in Philly for his album along with Hezekiah Jones and Up The Chain.  So, can you say – you want to be there?
Joe's album is 11 tracks that range from sparse folk to a bit of indie rock(ish) to full band crooner and its definitely a great listen.  The feature track here right now is "White Horse" and it's complete rock lament vibe.  Truly a sad sack track if I heard one…with D'Amico's vocals over a guitar fronted ballad – just killer.  With flecks of banjo, piano and waning pedal steel (I think) this is a great song to listen to late at night all alone or even to bring the house down at a live event.   Highly recommended.
"White Horse" – Joe D'Amico, from 2011's Asleep in My Shoes
Don't Miss the CD Release show at World Cafe Live on Feb. 17th!

Visit Joe D'Amico: Website, MySpace, Facebook & Bandcamp
Purchase his previous work at iTunes, Amazon
~Smansmith