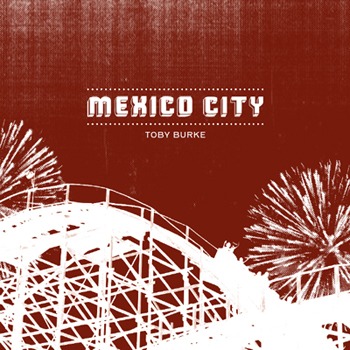 Always a sucker for a raw and down trodden sound, I was pleasantly surprised to find the new album from Toby Burke that he released on his label earlier this year.  Recommended to me from the good folks over at Quit Mumbling (see their post here) while we were having a "twitter convo" in regards to the new Josh T. Pearson album.  A rather successful recommendation in my books and brought Burke back into my daily listening.
While we shouldn't compare Mexico City directly to Pearson's Last of the Country Gentlemen it does share a feel, an aura and leaves an impression that one would consider familiar.  One feels like they have experienced something after listening – it's hard to find a "single", it's hard to listen to a song and move along, it needs to breathe and play completely.  The album Mexico City was recorded in, you guessed it, Mexico City – but done old school in mono and using natural echo that helps create this overall impression when listening to it as a whole. It creaks, its ebbs and flows while still holding the listener close.
While I know Toby Burke from his 'other band' Horse Stories, this album recorded under his given name might be more representative of the artist…as an artist.  While I am familiar with Horse Stories, I am thinking that that moniker is meant for the indie-melancholy (which is another favourite – check out the November, November or Everyone's a Photographer albums) this one seems more for the sad bastard troubadour in all of us.  Recommended listening.
"Cantina Crawl" – Toby Burke, from 2011's 'Mexico City'
(stream the entire album from his site)
Watch probably my favourite song (so far) of the album, "Sentimental Fools";
Visit Toby Burke on his Website and Facebook.
Purchase via his store or find those Horse Stories albums via this store.
~Smansmith