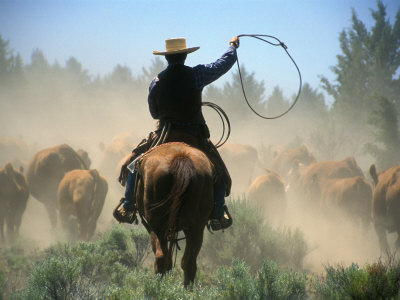 above photo art from here
banner 'www' taken from cover of La Revolucion de los Blogs
Today is a round up of things from fellow bloggers that I have been enjoying.  Since the Calgary Stampede starts today, what better time to have a 'round up'?  Damn, I am soo current.  Let's get started shall we;
I hope you all found the newest single from Canadian Singer Songwriter Fisticuffs via April over at Common Folk Music.  No?  Well, find it HERE.
HearYa always getting the good stuff, featured a recent session with Trampled by Turtles (see here).  Currently loving the live version of "Widower's Heart" – see the video below:

Trampled By Turtles – Widower's Heart from HearYa.com on Vimeo.
Captain Obvious had another installment of his staple Mixtape posts with the June edition.  Beirut, Mount Moriah, Bonnie 'Prince' Billy & Will Johnson among others!  Definitely a must check out.
Speaking of Captains and Will Johnson….Greg over at Captains Dead was enjoying some vacation time in Chicago and caught the Centro-matic show with an added bonus of going backstage with Will Johnson and recording an acoustic video of Devil on the Interstate Line.  See it below:

Last but not least 1000x/minute featured the new (free) EP from Jesse Rifkin & Will Stratton.  This 4-tracker was released as a free download on Independence Day, July 4th.  See the post here along with a stream of the track 'You Are The Blades'.
There you have it, go visit some good folks across the www.  Tell 'em I say 'hi'.
~Smansmith