Today's guest post is courtesy of 1000x/minute blog! I have actually been meaning to post on this Joe Pug album, but of course I am willing to have Pj do it for me! Make sure to show some love his way and visit for some recommendations on the indie front (we tend to think the same thing about the same things…so, you know…).
Without further adieu, ladies and gentlemen…Joe Pug.
~~~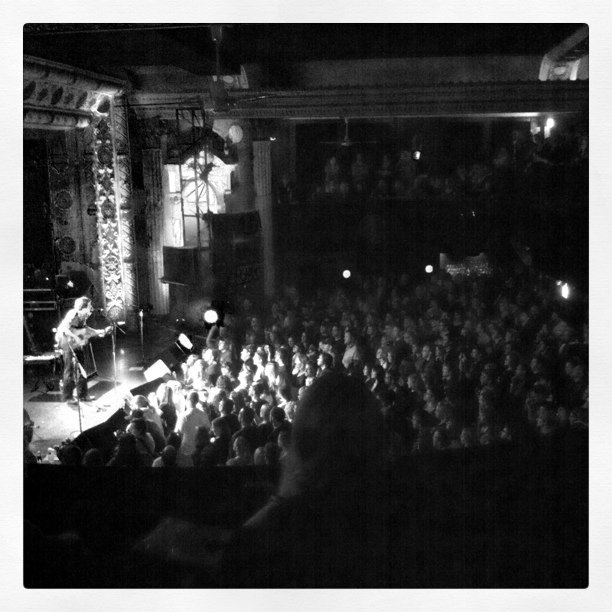 Great news abounds for fans of one of folk music's hardest-working, most sincere, down-to-earth musicians in the business. Joe Pug may be from Chicago, but his words and music are as warm as a Southern gentleman – fans of his debut Nation Of Heat EP are likely more than familiar with his ability to spin a lyric that can resound deeply and profoundly even in their simplicity. Now, between the release of his 2010 full-length album Messenger and his recently-announced upcoming 2012 LP The Great Despiser, Pug is offering up the 17-song Live at Lincoln Hall (stream below), which has more than enough highlights for longtime listeners as it does for first-timers.
Normally, I wouldn't consider a live album to be anything worth shouting about, except that I have been fortunate enough to see Pug in concert twice. The first time in a cramped bar somewhere in Ohio on a Monday night to a handful of eager observers, and the second in Chicago's Metro Theatre with a full backing band, a proper setup, and a sizable crowd. Though the Metro show was a personal milestone and celebration for the man, he played it exactly the same as he did in the hazy lowlight on the makeshift platform in the corner bar – with intensity, resolve, and a warmth that conveyed each song like a piece of art lovingly whittled and weathered into shape. And perhaps even more impressive was seeing his face light up after the show as he shook the hands of each person who took the time to thank and congratulate him. It's almost as if you could count his fanbase by the number of hands he's shaken.
Live at Lincoln Hall is an extension of that experience, shared by every person who's been fortunate enough to come in contact with Pug and his music. Favorites like Hymn #101 and Speak Plainly Diana hit just as hard here as on any previous recording, but my personal favorite is a cover of Tex Thomas' Start Again (listed as Deep Dark Wells on the track listing) which is a two-verse, fresh wind of a song that revolves around the lyrics "As long as you're not finished // You can start all over again", sung with a strong sense of personal conviction. Tourmates Strand Of Oaks even make an appearance for a number of band-backed tracks, but the highlights for me are the moments when Joe stands alone on stage with nothing more than his voice, guitar, and harmonica. Sublime.
You can stream the whole album from the widget below or pick it up for the steal of a price at $5 over at the website or below. If you've missed out on these tracks, here's your chance to jump in and directly support an artist who is genuinely dedicated to his craft.