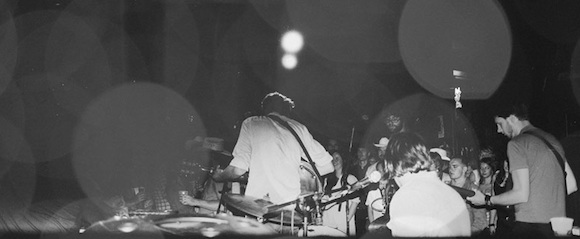 So the other day my close personal friends The Deep Dark Woods (don't you know all Canadians know each other?) posted on their website and social outlets about a live download they are giving away.  Well after I feigned hipster nonchalance I casually grabbed a copy of it…I mean whatever…might as well…
Okay, so honestly I was excited and rightfully so.  The download is 8 tracks and does a great job of spanning their discography and shows a range from uptempo jams (of which their live show is known for) and their amazing downtempo balladeer tracks.  The recording is from the Birchmere out in Alexandria, Virginia from January 19, 2012.  I thought I would do you all the favour and send you in their direction to pick it up and give you some sampling below.  You can find it on their website HERE and it is also where the photo atop this post and the banner image on the front page is from.
I have chosen 3 tracks for y'all to sample as each one is from a different album and all stand out.  I have also done you the favour of giving them a slight gain in volume and ever so slight cropping of the tracks with fades…because I love you all.  Now listen and go and grab the whole set from these good ol' Saskatchewan folks.
"Hang Me, Oh Hang Me (Live at the Birchmere)"
~from 'Hang Me, Oh Hang Me (2007)' – Purchase
~
"All the Money I Had is Gone (Live at the Birchmere)"
~from 'Winter Hours (2009)' – Purchase
~
"The Place I Left Behind (Live at the Birchmere)"
~from 'The Place I Left Behind (2011)' – Purchase
Enjoy your Saturday and simply pretend you are 'Live at the Birchmere' out in Virginia if even for a few minutes.
~Smansmith