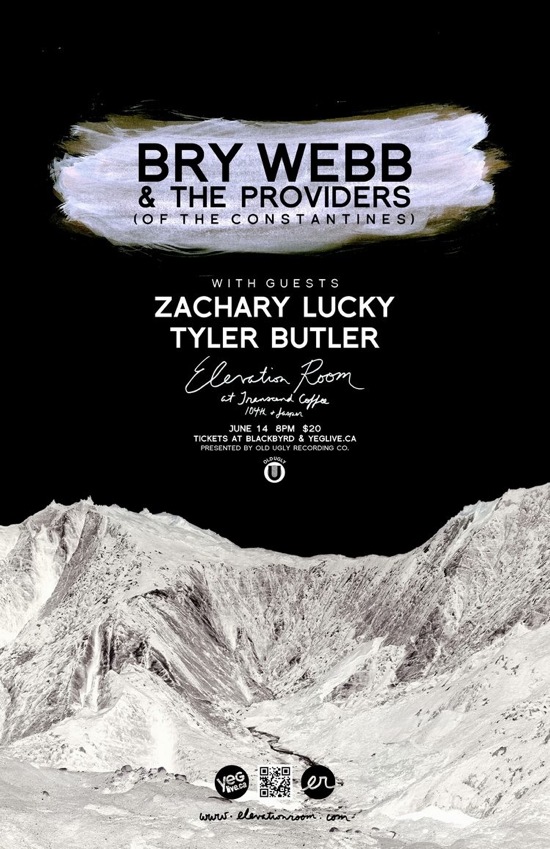 Tomorrow night (June 14th, 2012) in Edmonton finds a spectacular line up just up the road from Slowcoustic HQ here in Calgary.  The triple threat show is sponsored by CKUA and presented from the good folks at OLD UGLY Recording Co.
So let's be clear here, despite not being able to make it to this mid-week show, if you are able to make it out, I can assure you it will be fantastic.  Opening the show is hometown troubadour Tyler Butler who's album Winter King was a 'favourite of 2011' and we liked it soo much we re-released in on our own label early this year!  I am pretty sure you will be hearing new material at this show as well…
Next you get Zachary Lucky from Saskatchewan making the trip to splay out his prairie folk before all in attendance.  His latest EP, Saskatchewan, is currently on our 'favourites of 2012' section.  And it takes a quality performer to get an EP on a best of list these days.  Essentially anything this guy does drips with fantastic folk hooks and earnest lyrics.  Probably one of the most under appreciated Roots acts in Canada today.
Lastly we have the headliner Bry Webb & The Providers.  You may know Bry Webb as the driving force of The Constantines but he brings his latest solo album, Provider, on tour.  I am not going to lie to you, I have voted this album as my top 5 for Canadian Album of the year for the Polaris Prize and I truly hope this album gets a nod.  The album is gorgeous, sombre singer-songwriter fare.  Not exactly folk but it carries a timeless vibe like many folk inspired collections do.  One listen to the opening track Asa (his son) and you will be hooked for sure.  The album was released late last year and he has enjoyed some touring with Feist and is now headlining his own tour.
So tomorrow night, if you are in area of the City of Champions – swing by 104th & Jasper to Transcend Coffee's Elevation Room by 8pm for the show!
You can find tickets HERE or contact Transcend coffee at 780.421.7734 .
~Smansmith