Okay, lets get to the remainder of my Calgary Folk Music Fest 2012 journey!  Despite having a few family obligations over this weekend, I was still able to spend the entire Friday night (see my previous post) and most of the day on Saturday and Sunday.  First off on Saturday I had a chance to see the newly formed Reuben and The Dark!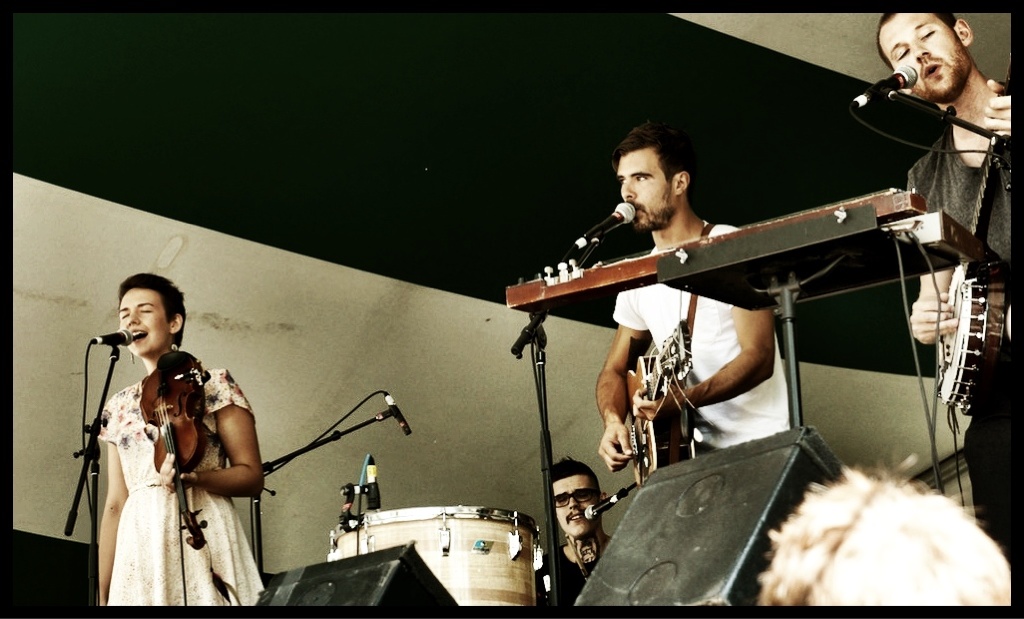 Reuben Bullock from right here in Calgary is now pulling together his sound and surrounding in the form of a complete band now called Reuben and The Dark.  The core of his singer songwriter sound is still there, he is now bringing in layers and full band sound to it.  The band consists of Reuben Bullock along with Scott Munro, Shea Alain as well as Distance Bullock on drums!  We were treated to some previous work along with some of the upcoming new material that should make an appearance by the end of the year.  They had a 'part time' violinist for the folk fest and I have to say they performed quite well as a five-some – maybe she can make an appearance in the future??  I have always cheered Bullock as one of Calgary's best talents and I think he may be putting together the push for the rest of Canada to take notice!  Great folky vibe with a fuller sound with the band – not too rocking, but just the perfect middle ground (I don't want to say folk rock, as I hate that term) but a great indie folk album will be the result of the new project Reuben and The Dark…I am sure of it.
Find out more from the band at their new website.
~~
We then stayed at the same stage (of the 7 total stages of the festival) for a workshop called "Smoking in the Noise Room" that consisted of Jim White, John Doe, The Magnetic North and The Barr Brothers.  I honestly went to specifically see The Barr Brothers, but the round table format of the workshops give you a chance to see multiple artists all at once.  I was also interested in some southern American songsters so John Doe and Jim White provided the juxtaposition from the two Canadian acts The Magnetic North (Calgary) and The Barr Brothers (Montreal).  The more seasoned veterans White and John Doe definitely had some banter between songs and really impressed with their stories (Jim White below telling one of his many 'indiscretions').  Good stuff!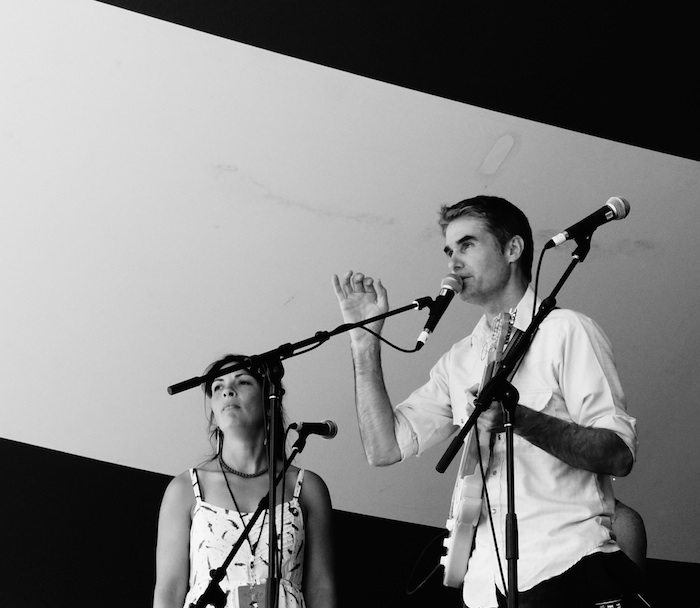 I have to say that the Barr Brothers played a couple of great tunes and did not disappoint.  Actually after one of their songs, Jim White (above) actually changed his next scheduled track as he needed "something more" just to follow them!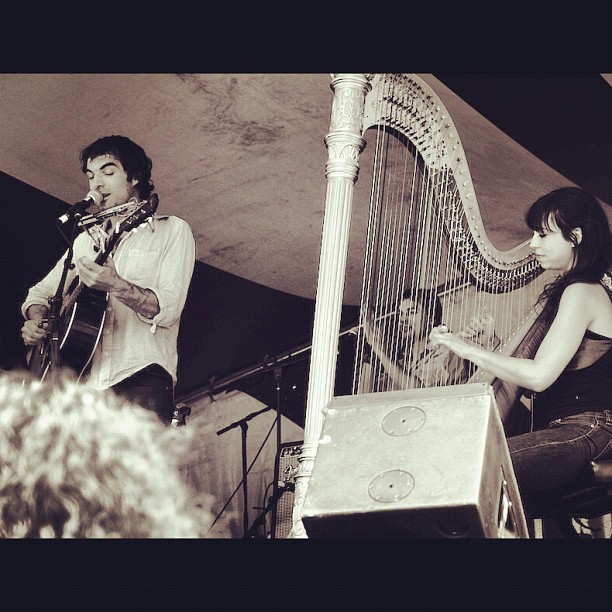 The Barr Brothers played The Devil's Harp from their self titled 2011 album and it was frickin' fantastic.  The harp pictured above played by Sarah Page added a whole new facet to the experience live.  They played as a trio for CFMF I believe (Not always completely sure as it can feel like an Arcade Fire concert with the number of folks on the stage at one time for the workshops and I lose track…) and it totally worked.  Very glad I got to see them.
Visit them on their website.
~~
Next we went for a pitcher of Big Rock Ale (of course) before seeing Sarah Jarosz.  I was really looking forward to seeing her almost totally due to all the praise Jarosz gets.  I have listened to her 2009 album Song Up In Her Head and loved that cover of The Decemberists' Shankhill Butchers – so I knew it couldn't be that bad right?  Well, I am glad I did see her as Jarosz and both Nathaniel Smith (cello) and Alex Hargreaves (violin) played a spirited roots folk set.  I have to also say that alongside the quality music, all three struck me as incredible musicians in general.  They finger picked the hell out of those guitars, cellos and violins – you have to catch Nathaniel on cello, dude rocks that thing.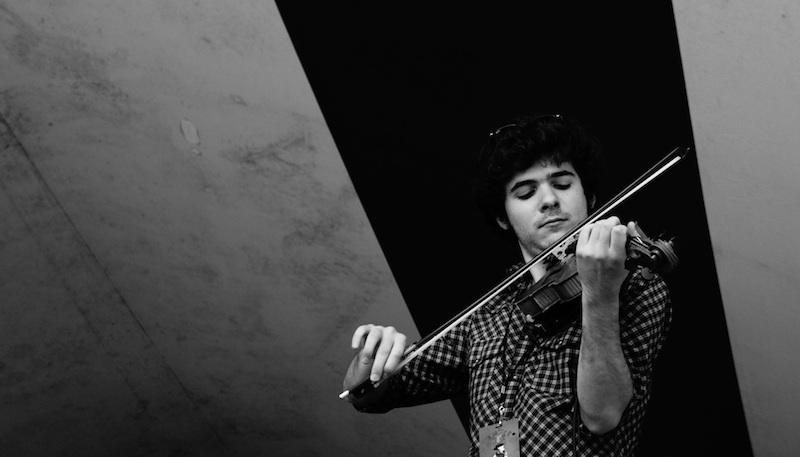 The bluegrass roots vibe at this stage had the crowd really into it – the three really mesh well and put on a school of strings you could say.  Really found new life in the song Broussard's Lament after hearing it live.  Of course she played a cover of Joanna Newsom's Book of Right-On for good measure!
Visit Sarah Jarosz on her website.
~~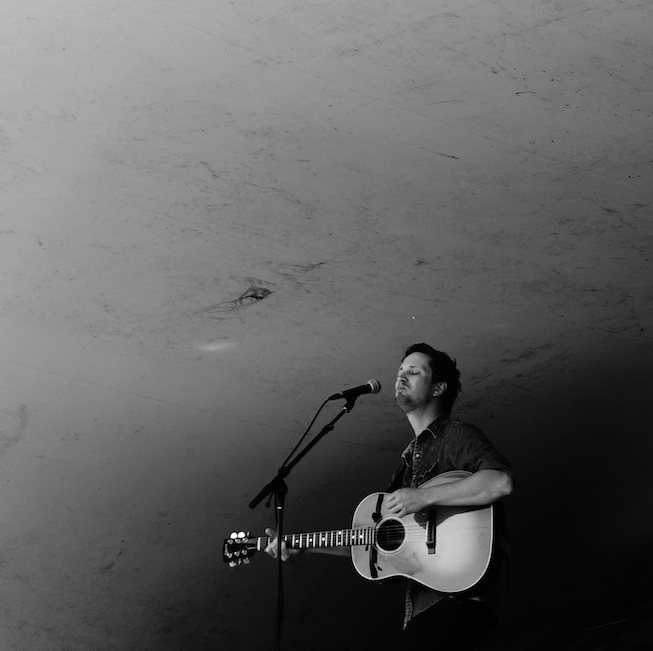 Sunday found us at the previous post mentioned Del Barber solo show on a blazingly hot morning.  If you ever see Del Barber play live you know he has stories to tell…and not only in his songs!  Del has an ease at banter and he introduced almost each song with the background and a bit about it in general.  His stories of living in small town Manitoba, then big city Chicago makes for a few interesting moments.  He also let us know that he is now joining up with Six Shooter Records out of Toronto – so I assume we can expect a new album in the foreseeable future.  I enjoy his down to earth laments and his country drawl in his songs – they really are stories of heartbreak and small town life.  One of the stories was of the song Miles and Years and his break up in a diner on the outskirts of Chicago.  You know, sometimes the stories are real…and that makes them all that much better in song.
Visit Del Barber on his website.
~~
This is where I leave you and when I left the festival.  Just a reminder that my Day two/Three was the official Day Three/Four.  My only festival regrets were not seeing Iron & Wine, Justin Townes Earle and Gillian Welch.  So yeah, pretty big regrets overall.  Well, from what I saw it was more than worth it and I would do it again anytime.  Next year…who knows how many shows I can make it to…I am thinking pretty much every damn one.  Thanks Calgary Folk Music Festival – you done good.
Visit Calgary Folk Music Fest on their website and see their full range of photos on Flickr.
~Smansmith