I have been the entity "Slowcoustic" for years now.  I am often acoustic and mainly slow.  I am one franken-word created by forcing together two (apparently related) ideas originally created to brand myself.  Being forced into a world alongside "Brangelina" & "Dubtronica" is not lost on me.  With less and less actual blogging done each year by myself – what, did I have 3 posts in the year prior to this one?? – I wanted to still try and put out this list as music is always a strong force in my life and I assume readers of this website would also agree.  I mean, who goes to a site called Slowcoustic anyway?
None the less, my fevered and manic love of music requires me to try and force my opinions onto others by listing things in pseudo numeric order or just making a list of the music I enjoy.  Music is something that will always be worthy of enjoyment (& quality bias) for myself and the current drifting/shifting medium of music-blogging needs my 2015 listicle, I know it.  I hope you all get a chance to agree, disagree*, roll your eyes at*, dismiss* or even strongly agree with any or all items below!
~~Slowcoustic's Favourite Albums of 2015~~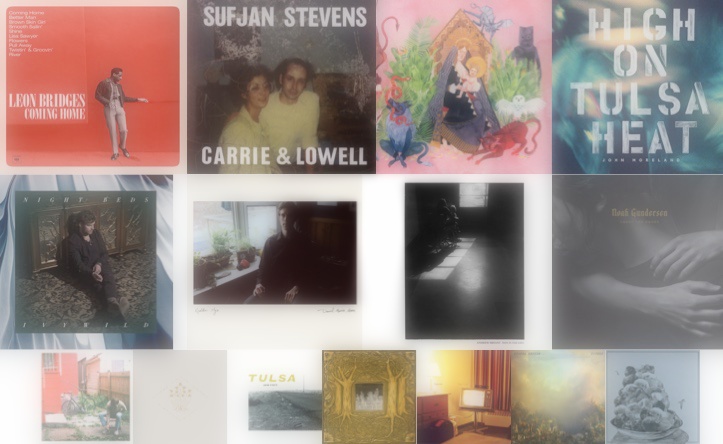 Leon Bridges – Coming Home
Leon Bridges isn't really "Slowcoustic" but my tastes have been (not so) slowly turning to aging white guy – meaning older jazz/blues/folk albums so…
I think this ends up having Coming Home being a combination of an excellent uber-catchy album alongside my overall shift in the indie folk singer-songwriter genre.  I really have started enjoying older torch-style singers like Nina, Billie, Ella F alongside Otis and Sam, etc.  I think the album sits on its own merits despite my listening tastes caveat above and it is my most played album of 2015 with the track River being one of the most played songs.  Visit/Purchase.
Sufjan Stevens – Carrie & Lowell
Sufjan Stevens' newest album is not a return to his old style but just another album from this immense talent that just so happens to be similar in style to a couple others that some folks liked a lot.  I guess I don't really think this is "his signature sound" but it is freaking good and I will always like it.  Death always seems to make a fun great folk album, no?  Visit/Purchase.
Father John Misty – I Love You, Honeybear
Father John Misty, Winner: Best Actor in a Comedy or Musical 2015.  Visit/Purchase.
John Moreland – High on Tulsa Heat
John Moreland's Tulsa Heat – great album that is practically has no throw away tracks…well maybe Sad Baptist Rain…imho as it seems very standard country rock and that is not always my bag, man.  But then you have Cherokee, so it all becomes okay.  Visit/Purchase.
Night Beds – Ivywild
Night Beds – this is included just to make Adam upset.  And I kinda like it as well – it does get away from itself on the back end and could be 4-5 songs shorter but you know, still a interesting synth folk album.  Visit/Purchase.
Noah Gundersen – Carry the Ghost
Noah Gundersen is awesome when he is a tortured crooner. His previous album to Carry the Ghost, Ledges, did almost nothing for me but this album is ace. The song Heartbreaker is a potential song of the year for me.  Visit/Purchase.
Andrew Bryant – This is the Life
Andrew Bryant made a solid album here.  If you have been listening since Galilee or even Hurricane Blues you are a good person – if you don't know of what I speak, then welcome to Magnolia State…it can get a bit gritty and rough but the beauty really shines.  Visit/Purchase.
Daniel Martin Moore – Golden Age
Daniel Martin Moore seems like someone who sang in a choir and you always wanted to talk to him in high school as he seemed talented.  But he was in choir, so…you appreciated him from afar.  Golden Age makes me want to sing.  Visit/Purchase.
and the following will officially combine into two slots in order to have an efficient and non-threatening "top 10";
There you go.  Go forth and listen/purchase all the above music because I said so.  It is the Christian** thing to do.
~Sandy at Slowcoustic
* = all incorrect selections placed to rebuff those that do not have musical taste/don't agree with me).
** = HA!  Christians, am I right?***
*** = Religious humour?  Really, in this climate?  ;-)