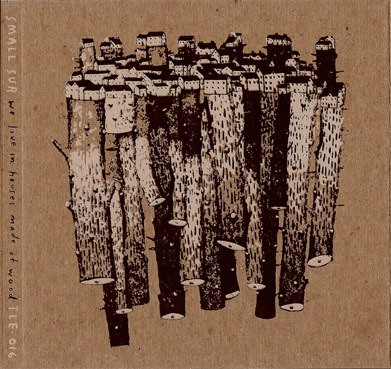 Third installment of "If You Haven't Heard" and once again I bring you gold here people!  Along with the two previous Monday posts, you must hear this if you haven't already – I really mean it…see below.
Small Sur seems to be a bit of a play on a slice of California life, doesn't it?  Well maybe if you grew up in North Central United States and followed that up with a few years on the California Coast, you might be a "Small Sur" as well.
Well maybe small in name but not in stature or talent, Bob Keal is the heart of this Small Sur.  Keal brings a honest, hushed folk sound to the table, a table that should be located at an old family cabin, deep in a haunted wood.  His music also feels like it lends to a slower time with down home roots and lazy afternoons.  I know I feel at home with this album, but I often get lost in a lone singer and an acoustic guitar.  Although at times you might feel like all items are merely accents to what Keal and his guitar are bringing to that table, there is more than just one lone troubadour on this album.  There is great harmonies from Julianne Nelson, bass and percussion from Scott Dennison and Austin Stahl respectively, with a personal favourite (the banjo) being supplied by Andy Abelow.
Small Sur finds itself on the Tender Loving Empire label who have just released this great album on August 19th of this year.  They have been touring this summer and have shared the stage with other great artists from Jana Hunter and Johanna Kunin to Wooden Wand.  For those keeping score, the likes of Jason Molina and Will Oldham are listed in the "if you like, then you should like…" notes from the label – not bad company if I do say so myself.
Small Sur can also be found on their MySpace page here.  I just might say, I am not shy in admitting that I have an early entry into my "best of 2008" post this December…(it is like I keep saying that phrase a lot lately).
You can check out the mirrored post on our sister blog – You Crazy Dreamers here.  Included over with the dreamers is another two tracks not included here, so go git 'em!
~Smansmith