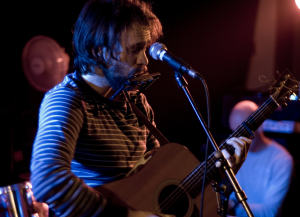 NEW ALBUM coming from Leiv Reed!  Honest, official release on its way!
New father, Leiv Arvid Reed is a Norwegian singer-songwriter (born in Reed, Norway if you can believe it) with one of the greatest back catalogues for never releasing an "official album" of any artist I know of.   Just looking over his Last.fm profile page, he has 4 albums, 3 eps, 1 single and 2 live self released projects…ummm 10 releases and not an official album…well that is about to change!
I have it with great authority that Leiv is on his way to releasing an album shortly (okay his MySpace page say so, but I confirmed with the man himself).  I personally cannot wait, as I have been listening to him for a while.  Leiv brings the somber Americana folk that I enjoy – it always seems that after the mid-west United States, Sweden and Norway seem to produce the best "Americana/Folk", and this is another stellar example.  Whether it is a bit of finger-picking traditional folk or a Alt-Country ballad you can hear a bit of it all with Leiv.
Check out his [currently] most recent release from 2008 "Only Color True" on Last.fm and enjoy a track "If I Fail (She Loves Me The Same)" below.  Also, I have included a track from a favourite release "Forest And Meadows" from 2006 and "So Far Gone (That's What You Are)" – this one gets me as it is soo mellow in his delivery of what can only be a sad tale of a love that just can't be given into.
I hope you enjoy the songs, and keep an eye on his MySpace page for updates on the new album (like a new track on his streaming player just last week).
~Smansmith