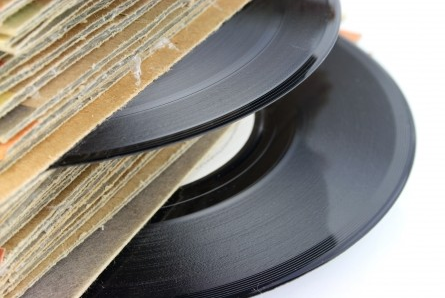 Hmmm…records…not recordings, but records.  Thing of the past or recently making a comeback?  One thing as the so called "mp3 generation" we lose the ability to have two sides to music (and actual hold in your hands media).  Not necessarily that the music has a formal beginning and an ending as both sides simply may focus on the same thing and merely be more of the same.  One can also miss the "warmth" of vinyl records, or as I call it "texture of static"…purists always mention this point, I am not always sure I can feel it.  I myself have embraced electronic copies of music and keep purchased vinyl albums for my classics (if it is available in record form) – such as Neutral Milk Hotel's "In The Aeroplane Over The Sea" and Portishead's "Dummy" among them.  I have only been purchasing vinyl in the last 10 years or so, apparently during the death throes of the medium.
Friday Playlist – Side A
Mark Dougherty – Into The White
Dante Kinnunen – Where We End Up
Danny Cavanagh – A Place To Be (Nick Drake Cover)
Sounds Like Fall – Dust Pile (demo)
Now Flip or just look to the next post.

~Smansmith