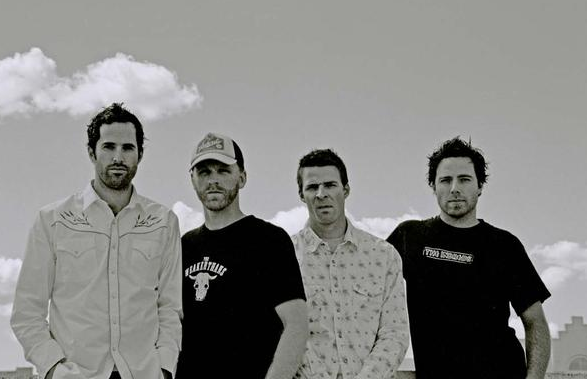 So last night I went out.  Yes, I went out to mingle among the people, to feel the night air in my lungs, to hear the buzz of a crowded club and pounding of a kick drum.  Yes, I enjoyed live music here in Calgary (rare for me, as I find not too many "known" Slowcoustic types swing on through) and I had a pleasant surprise in "the opening band".  This group of good old boys from Edmonton, Alberta easily warmed up a packed Ironwood (Stage & Grill officially) club and had the locals feeling the energy and love with no hint of any battle of Alberta (Edmonton band playing in Calgary…long story, but if you are local and reading this, you might know what I mean).
So I kept meaning to check out The Wheat Pool prior to watching the show as I knew they were opening for The Deep Dark Woods but with work and such, just never got around to it.  I knew I was going to see them, so I thought, "well, I'll hear them on Friday anyway, I can decide then" – and I have decided – good frickin' country.  I know I said "Country" and didn't put an "alt" in front of it, let's just except that they just might be country foremost with the "alt" & "rock" trailing only slightly behind.   Sometimes I can get lost in bands that just might be too country, but I think seeing a band live can change that…maybe it is the energy, the sheer volume or even that simply seeing a band live can win you over.  I mean you see the boys movin' their own amps, setting up the stage, tearing down the stage and being gracious for it and playing a great set to boot…just another night for them I am sure.
The music is only a hair away from being pure country, as in it could be more accurately described as heartland Country Rock.  There is some twang, there is honest lyrics (even if their song "Neil Young" isn't actually about Neil Young), nice harmonica and their fair share of Nashville electric guitar.  While I enjoy the uptempo stuff, they do have a slower side that might fall into end of night crooner status – this makes me happy and actually rounds out the band's sound.  You will find the band keeping it in first gear in the great track "Peniel, SK" below.  You can then fill out your dance card with the indie rock of "Evergreen" & full on country rock of "Geographic Centre of Canada".  If you think they are not Canadian, you will be reminded by lyrical references, spelling and song titles if nothing else!
I will always have a special place for The Deep Dark Woods as I believe they are fantastic, but there is another view of the night (from the seat next to me and the Mrs.) went a little something like this:
Packed House — check

Trucker Hats — check

Non Ironic Plaid shirt — check

4 Charismatic Dudes on stage — check

Heartbreak & Longing — check

At first glance The Wheat Pool is pure country…after a few songs…categories don't apply. The crowd was treated to witty banter between the brothers, heartbreaking lyrics, haunting harmonica solos and the skillful playing of the guest band mate on the slide guitar. Live music is infectious — especially when it looks like the band loves what they do.  I didn't know what to expect and I was pleasantly surprised, the band was energetic, charming and easy to listen to (not bad on the eyes either). Nothing against the extremely talented Deep Dark Woods but The Wheat Pool stole the show.

They have a new fan and I don't mind saying I might even make the trip to Edmonton to see them play in front of a home crowd.

Enjoy the Canadiana.

Cheers!
Bonus YouTube of a solo acoustic song "Italy"

~

The Wheat Pool
"Evergreen" (mp3)
"Geographic Centre Of Canada" (mp3)
"Peniel, SK" (mp3)
from "Township"
(Shameless Records Canada)
More On This Album
You can check out The Wheat Pool on their Website and MySpace.
Pick up the "Township" album over on Shameless Records HERE.
~Smansmith
p.s.  Did my wife say they were "Easy on the eyes"?  Umm….