So yes, you think "Michigan once again".  You think "maybe I started to post too much about Michigan".  Then you notice Michigan starts hanging around more than it used to.  Then Michigan asks to borrow money and accepts deliveries on your behalf.  Then it happens…Michigan asks you to help it move and wants to store their old university textbooks in your unfinished basement.  You find yourself surrounded by Michigan and you don't know how you got there.  Then it hits you, like that moment just after you awake from a bender the night prior…you remember why and it all makes sense.
Michigan keeps providing you with incredible music.  Ahhh…you feel better about this whole MIchigan situation.
This Is Deer Country.  A duo from, you guessed it, Michigan.  This is Daniel Haefs and Kate Pote and they make some great dreamy acoustic folk.  The kind of music you drift along to and almost feel intoxicated by.  Don't get me wrong though, you still have to pay attention or you might miss some of the best indie folk coming out of "the mitten".
This Is Deer Country is a sound which is fronted by Kate's harnessed voice and Dan's harmonies and backing strings.  For a young(er) couple of musicians, they sound very much put together and the EP is well recorded/mastered for an "unsigned" talent.  Kate's voice seems like knock out/drag out/powerhouse that is evenly reigned in, but you know there is something more there – almost bluesy with southern gospel mixed in.  I notice this in much of the EP and especially the smokey cabaret influenced "She is (Predatory Woman)".  The sounds come from very minimal instrumentation, but doesn't feel lacking and even sounds fuller than you would expect.  They have much to give and you know that an EP is not enough, it needs a full length: even if the EP is 7 tracks…
"Daylily King" is from just over a year ago (released February 2008) and although I only got wind of it late 2008, it would have made a top 5 EP for the year for me had I heard it sooner.  There is no follow up at the moment, but I can always hope.  With the network of talent and collaborative atmosphere in their neck of the woods, I would have to assume we will be seeing something more from them soon.  We can always hope Future Sailor Records pushes for the next release soon – maybe you all should contact them and let them know that we need more of This Is Deer Country…
Click on the EP cover to visit TIDC on MySpace.
Check with them, there just might be more copies of the EP around.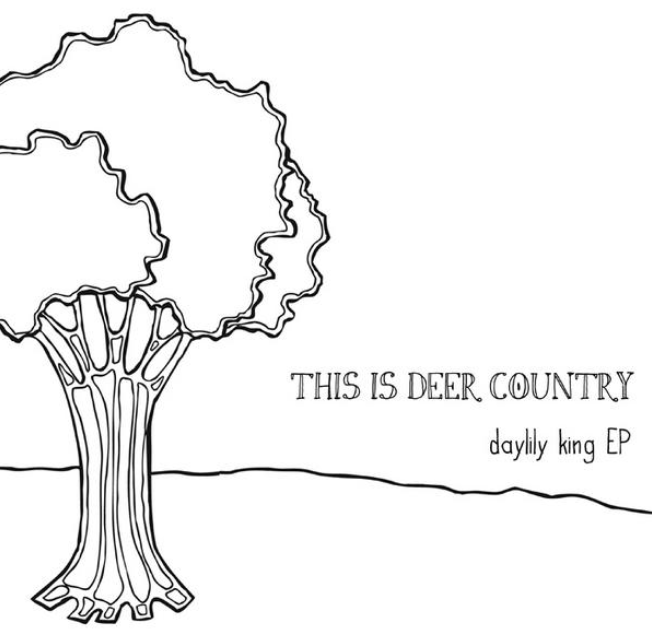 ~Smansmith