Black Golden Bull from Non Entity Labs.  Yeah, sounds interesting.  I still don't know who they are really, other than a group of musicians making pretty darn good cowboy folk.  I don't know any names (correspondence from "A. Friend" is all I have) and they also indicate that no musician names will accompany the CD, etc.  Yeah, sounds interesting – Just check out the "philosophy" tab, you just may start to wake from your daily grind and join this troupe of musicians…
See the website description on themselves in regards to the Black Golden Bull release: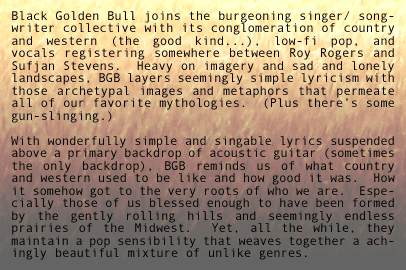 It really is how they describe it, the music is melded together and just might transcend a genre (other than Slowcoustic that is…) – but there is definitely a down-tempo or hush placed across the album.  I am really enjoying it and although recorded and released in 2007 (or officially in 2008) it sounds both contemporary and nostalgic, which I believe just may be one of the goals of the project.  Definitely for the acoustic, sad bastard crowd and that just the way I like it.
Check them out at the following:
Non Entity Labs at Myspace
Black Golden Bull at Myspace
Black Golden Bull at Virb
Black Golden Bull at last.fm
Black Golden Bull at purevolume.com
Pick up a copy of "Black Golden Bull" from CD Baby or iTunes:
~Smansmith