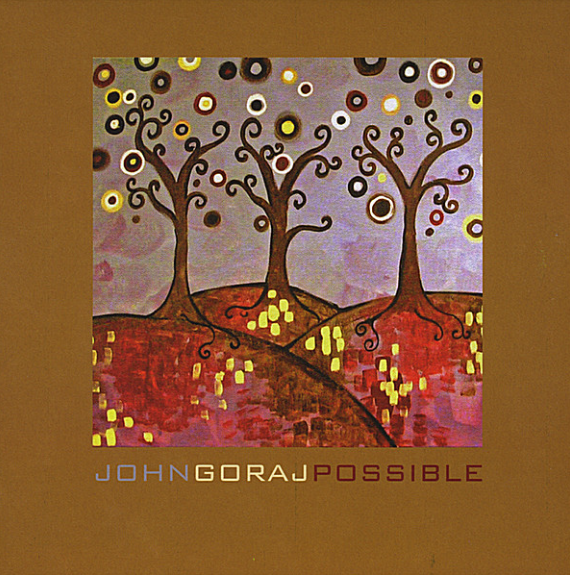 Well folks it is more than "possible", it is in fact a post and interview with John Goraj.  Some may not know of this northern prairie boy, but you just might need to.
I first heard John Goraj when fellow blogger Olivier over on You Crazy Dreamers put a post on him, and I took a listen and liked it.  Then I kind of forgot due to my own blog and the numerous bands/artists that you find in your inbox, the day job, the wife and kids (two dogs) and I "re-found" Goraj a couple of weeks back.  I am glad I did, the album is a great indie folk/singer songwriter release.  Whether it is his soft but spirited delivery (wavering just at the right time), the numerous appearances of banjo (my favourite) or the honest stories throughout the album – it is plain and simple good.   If you were not mistaken, you might find a bit of southern influence but I can't place it – it isn't "gothic" but more bluegrass-ish, all while he almost chants above the music.  It can feel quite powerful at times, especially in headphones!
His album "Possible" came out last year and is available on iTunes and CD Baby.  It is great collection of 10 tracks of melancholy gospel for me.  Stand out tracks include "Kahlil Gibran from Lebanon", "Burn" and "Baby Blue Cords".  But overall the album is very cohesive, so I think they may feel like feature tracks because of the backing of the album, who knows – I do tend to ramble!  There is another full length album on the way in 2010 and hopefully we will be seeing an EP release this fall that will find it a digital only release on iTunes, etc.
Let's not kid ourselves, folk music or singer songwriter can be fairly straight forward to those who don't immerse themselves in it, so dive into an interview and a couple of tracks!

1. First off, introduce yourself and tell us "Who is John Goraj"?
My name is John Goraj. I'm from South Dakota. I'm a songwriter. I live in Los Angeles. I'm skinny. I'm obsessed with melodies. I love mango juice and American Spirit cigarettes. I could listen to Bon Iver's album, "For Emma, Forever Ago" all day long. Sometimes I text myself things i need to remember. I worked on a monastery in rural Oregon picking fruit right after I graduated high school. My mom taught me how to sing. I think the cello is the most gorgeous sounding instrument created.
2. The big move, why move from the heartland to the big city?
I'm not sure exactly why I moved to LA, I just knew that I couldn't be in Sioux Falls anymore. Not because I don't like it there, because I love South Dakota and miss it a lot. There are many talented musicians and songwriters there and I'm blessed to call them friends. It was just time for me to leave. I had done everything I needed to do there and I felt strongly that I needed to go somewhere else and share my music with new people and that place just happened to be California.
3. What were your influences for "Possible", and how did they manifest themselves on the album?
"Possible" was recorded in Sioux Falls over a pretty long amount of time, almost two years. Mostly, because the studio we recorded in was in my friend's dad office building so we couldn't get much done during business hours because people were working. The songs equally span a long period of time, some of them were several years old by the time they were released. Some of them were written when I was going to college in Bozeman, Montana. Some of them were written in my house in Sioux Falls and others like "Kahlil Gibran" was written and added in right of the end of the recording sessions

Since the songs cover so many years of my life, it was hard to figure out what the fuck these songs were even about? So I had to dig a little, to find out what I should call it I ended up calling it, "Possible" because of the song "Possible," which is mostly about my relationship to God or a higher essence that I was feeling very profoundly at the time. Its hard to explain, but the general theme of the song and the album, are the feelings of shame, pain and sorrow being totally transcended by grace. But those feelings never disappear. Also, the song expresses the possibility of good when everything seems destitute and pointless. More simply, the "possible" idea meant for me that it was actually possible that I could actually be a full-time musician someday and make albums for the rest of my life-a dream I'm still navigating.

As far as influences on "Possible," I'm really bad at this question, because my answer probably won't make much sense. But vocally, I'm very influenced by the voices of Shannon Hoon, Jeremy Enigk and Van Morrison. I love going all over the place with scales when I'm singing and I love crazy long notes. I won't exhaust you with an inexhaustible list of songwriters I love, but right now, I can't stop listening to the newest Weepies album, Hideaway- pure dream pop goodness with vulnerable and intelligent lyrics. The melodies fucking kill me! So good!
4. What is upcoming, new music, tours, etc?
Right now I'm just writing new music and reminding myself how to play all the new stuff I wrote on piano last winter and booking shows in LA. I probably wont be on tour until I have some money to go because I'm totally poor right now!
5. What do you find is the hardest thing about "the music business" – inspiration, recording, promotion, traveling?
The shittiest thing about the music business is that there's a lot of selfish, egotistical people in the music business, that don't really know what it's like to need music so much that you can hardly stand it! There's a lot of people in the industry that don't give a shot about music, but care a lot about making money. But, I believe there are also a lot of people who work very hard to make sure that beautiful, passionate music that we all need to hear is heard.
Thanks again to John for agreeing to become part of the Slowcoustic family!
Don't forget to visit John on MySpace and then head to iTunes or CD Baby to pick up a copy of "Possible"!
~Smansmith