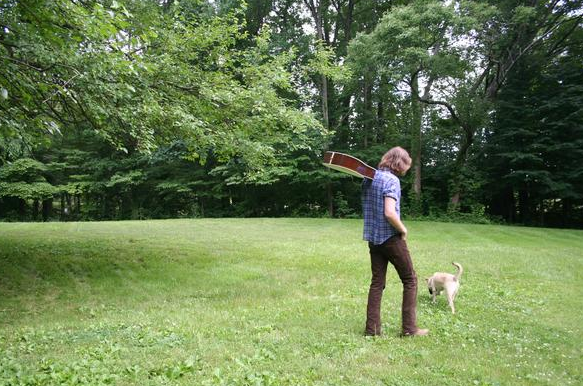 Sometimes I get in a mood.  My mood is currently set clearly in the land of late night dusk across the plains of Maryland.  Wait?  Maryland?  Yes, Maryland.
Paul Masson delivered to myself (just yesterday) a fine example of why I could have been born in Texas in the 50's.  Great country (or Alt-Country for those too scared to say they like country music) in the form his new EP and the stunning ballad called "My Girl Baltimore".  Immediately I was drawn in by Masson's perfect pitch delivery for such music: just a bit of grit, a bit breathy and clearly a history beyond his years.  Then the pedal steel kicks in.  Shit, this is good.  Just enough aching twang in the steel to break any cowboy's heart.
The song is from Paul Masson's debut EP that has just been released and in fact, "My Girl Baltimore" is Masson's favourite track as well, and ritefully so.  He also let me know that the stunning pedal steel was courtesy of Tom Hnatow of These United States.  So you know its gonna be good.
"My Girl Baltimore" – Paul Masson – from 2009's self titled EP
So support the return of Alt-Country and Mr. Paul Masson and pick up a copy of the EP:  it should be hitting some digital retailers (SEE BELOW – UPDATED) very soon or pick up an EP at any of his upcoming shows
You can always send him a note to tell him you really like it and you really need a copy via his MySpace page…
PURCHASE @
iTunes
Amazon
eMusic
Napster (yes, even Napster!)
~Smansmith