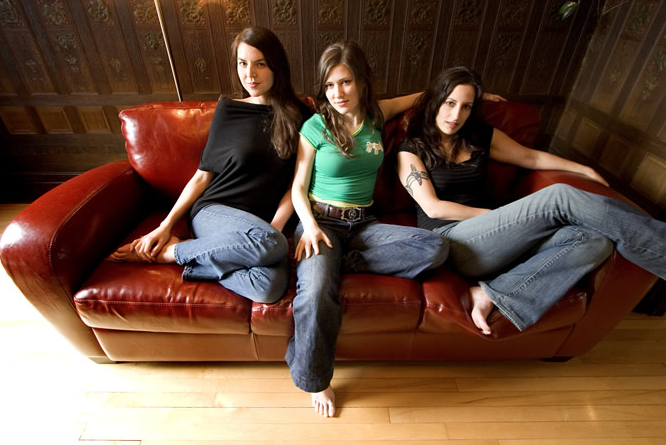 So I am not one to shy away from my "roots" (no pun intended).  So it is time to represent with some old school tunes (that aren't actually that old) – but the tracks are from one of my "hometown" bands, the Wailin' Jennys.
I am a previous resident of Winnipeg, Manitoba, Canada (I'm a "pegger") and the Jennys are definitely one of the best exports that the city has had (take that Burton Cummings).  I always think that I even know them due to this.  Despite never officially meeting Annabelle Chvostek, Nicky Mehta, and Ruth Moody, I have seen them from a distance at best.  Actually, I am a friend of a friend of one of the members (The Moody sisters are friends with my sister/brother in law – so how many times removed is this????).  Regardless, the ladies not being hard on the eyes are also not so hard on the ears.  This can be heard starting from their debut breakout album "40 Days", they have followed up with the great "Firecracker" and just yesterday a nice little live recording "Live at the Mauch Chunk Opera House".
The tracks included below are a Celtic laden lament (Long Time Traveller) to an almost Egyptian accented Southern barn burner (Deeper Well) – if you are a roots folk fan, you can not go wrong with TWJ.
~~
The Wailin' Jennys
"Deeper Well" (mp3)
from "Live at the Mauch Chunk Opera House"
(Outside Music)
More On This Album

~~

The Wailin' Jennys
"Long Time Traveller" (mp3)
from "Firecracker"
(Jericho Beach Music)
More On This Album
I think the music speaks for itself, so enjoy your Wednesday with some of my root's roots.  See what I did there?
Visit The Wailin' Jennys on their great Website and on MySpace.
Pick up a copy of the albums (or a shirt??) directly HERE.
~Smansmith
p.s.  You might want to check out my other home @ You Crazy Dreamers for a feature on The Wailin' Jennys member Annabelle Chvostek.