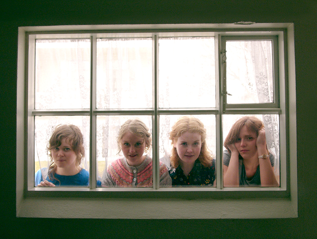 I just wanted to say I am sitting here mouth agape.  Amiina does that.
I haven't been on the band wagon (no pun intended) for very long and I didn't find them myself – I believe it was the lovely Agnes over at It All Started With Carbon Monoxide who introduced me to this Icelandic 4-some.  After finally *really* listening to their debut "Kurr" I am dumbfounded.  The album named for the sound the birds make, or are said to make, in Iceland and I am not so sure that some don't make that very sound around these parts.  Regardless that sound does not compare to the strings, keyboards and what ever else is needed to make the experience that is Amiina.  So, Forget Sigur Rós…okay just kidding, but seriously consider Amiina if you are a fan of SR – consider them in the same family but the cousin that quietly sits near the window and gazes peacefully at the horizon.  I will post the same track that Agnes used for her post from last December when she included them on her "Year End List of best music not from 2008" we featured on Slowcoustic.  Sorry for taking soo long in taking the suggestion – I hope the rest of you learn from my mistake and in turn take my suggestion – find Amiina, now.
"Rugla" – Amiina – from 2007's "Kurr" album (highly recommended)
Visit Amiina on their Website or on MySpace to listen to a few tracks.
Consider purchasing a copy of "Kurr" on iTunes and eMusic if you have the time and funds.
~Smansmith
p.s.  If you look closely, you just might recognize a face or two from the spectacular Sigur Rós concert film "Heima"