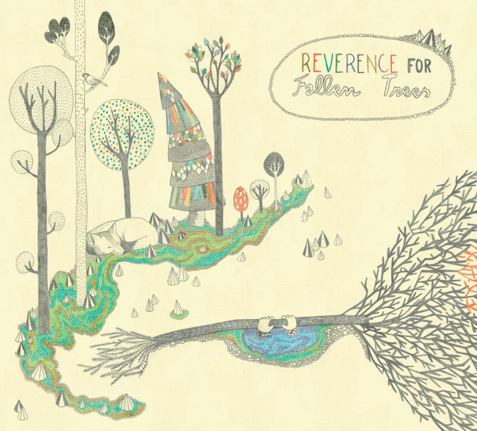 Introduced and recommended to me from the good folks at The Waiting Room (see them on the blogroll to your right please) – The Black Atlantic are currently on hardcore repeat over here.   As soon as you spin it a bit, you will feel the same way I am sure.
The Album is Reverence for Fallen Trees and has just been released (presumably on August 26th via their website) and they are giving it away for the low low low low price of your email address!  I am pretty sure this is a scam, I mean, the kind of scam that doesn't sell your email address and provides you with a full album of great indie-folk-pop completely free of charge.  I love those types of scams.
A little bit about the album from the website:
In February, 2008, in between tours, The Black Atlantic approached the international recording project "In a Cabin With" (IACW) about a possible recording session. IACW were immediately enthusiastic and plans for a late 2008 recording, to take place in a log cabin, were made. The cabin, owned by van der Velde's in-laws, is located in the small town of Saranac Lake, in the heart of the Adirondack Mountains of Upstate New York.
If the "process" sounds a bit familiar to another great album created by locking oneself in a cabin that is hidden deep in the wilderness – then you are correct.  While Bon Iver's "For Emma…" album was a bit more singer-songwriter, this album would have been the album he did if he brought friends.  There are crazy great hooks in these songs, they catch you immediately (which incidentally was not the case for me and the Bon Iver breakout album).  There is also a bit of melancholy throughout the release, this assists greatly in the sound that floats all around and you get lost in it.  There are copious amounts of strings, piano and harmonies (and I apologize for another reference to Justin Vernon, but even front-man, Geert van der Velde vocals are reminiscent of JV, if not a bit better trained).  Listen to the title track and tell me it is not stunning – this is great stuff here.  Recommended if you loved Bon Iver 2 years ago and you can handle a bit of Denison Witmer and a splash of Peasant.  It's "Sad Bastard Music" when you aren't having too bad of a day…yeah, that might be the best description.
This brings me to the free album – frickin' love it – but I still feel bad, the crew needs your love.  So tell your friends, favourite it on your various social media hubs, and overall just enjoy it and tell all those that will listen.   The band is doing a bit of an assault on various distribution channels by freely putting the album up on BitTorrent sites and such – so help spread the word already!
"Reverence For Fallen Trees" (HIGHLY Recommended)
"I Shall Cross This River"
"Heirloom"
~~~

Visit The Black Atlantic

TBA are doing a massive amount of shows coming up (and with another favourite Windmill!!) so if you are nowhere near me (Europe) then make sure you hit a show by checking the dates on the MySpace link above.  Also, don't forget to visit In a Cabin With HERE to see a bit of the behind the scenes of the album with photos, videos and commentary.
~Smansmith