Day 6 of "Bests" continue on with a return visitor from last years crew, It All Started With Carbon Monoxide!  Agnes from way over in Australia brings you what we all crave – great music, period.  When you don't want to have separate classes of album, single, release, video – you simply get the music that hit you the hardest from this past year.  I have to say, she has brought an absolutely stellar list – after a few listens you will not be able to deny it either.  Listen on.
~Smansmith
~~~
Well here we are again at the end of another year, and yet again I find myself wondering where it went. 2009 has been yet another fantastic year for music, and while the blog took a bit of a hiatus while I spent a couple of months travelling overseas, I've done my best to catch up with what I missed. Here's my favourite 5 releases from 2009.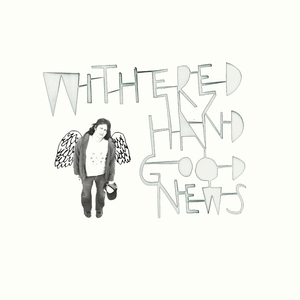 1. Withered Hand – Good News
I've been trying for weeks to write about this album and how much I love it, but as is the case with albums that really resonate with me, I find that it's difficult to do it justice with mere words.
Withered Hand is the performing name of Edinburgh's Dan Willson and somehow he's managed to produce a stunning collection of songs that I've not been able to get out of my head. There's an honesty about the way he writes, nothing's hidden from view but is all laid out before you, every last twisted bitter thing. It's a melancholy album, an album that questions and provokes, with countless moments of pure sweetness to be found in the turn of phrase, the imagery, the wavering not-quite-there vocals and the subtle percussion. All of these elements combine to create a brilliant, raw and organic piece of work that feels deeply personal and intimate, yet totally accessible at the same time. Wonderful stuff.
Highlights include my pick for song of the year 'Religious Songs' as well as 'Love In The Time Of Ecstacy', 'No Cigarettes' and 'Providence'.
"Religious Songs" – Withered Hand
I've not numbered the rest of my top 5 as I love them all equally – only 'Good News' stands above the rest – so the next 4 are in alphabetical order by artist.
This was another album I struggled to write about for quite some time, and it probably would've been my top pick if it had not been for the discovery of Withered Hand.
'Hospice' is an album about a man who watches a loved one die of cancer. It's a heartbreakingly gorgeous album, and I don't think it's enough to just have a digital version of this album either — you really need the physical copy to fully appreciate its beauty. The artwork is haunting and lovely and the lyrics, written out as paragraphs and not lines, give the feeling of an epic novel, rather than just a collection of songs. While this is a concept album specifically about somebody dying of cancer, what I love about it is that it can be interpreted in so many ways.
Every track is magnificent, truly, but the standouts for me are 'Kettering', 'Bear' and 'Two' (a track which also featured up high in my song of the year list).
"Two" – The Antlers
~~~
Meursault have been on my radar since 2008's Pissing On Bonfires/Kissing With Tongues, but it wasn't until I heard this year's Nothing Broke EP that I really started to warm to them (now you know why this post is about the best releases and not the best albums!) Pissing…. is more of an electro-type album, where as Nothing Broke is purely acoustic – warm and melancholy and absolutely gorgeous. It's only 5 tracks, but they're all magnificent.
The two highlights for me are 'William Henry Miller Part 1′ – its simple twangy banjo beginning grabbed me immediately, and Neil Pennycook's vocals are outstanding, complete with that lovely Scottish tinge that enhances every wonderfully chosen word. Closing track 'William Henry Miller Part 2′ follows directly from 'Part 1′ and features piano and guitar and a greater ambiance than 'Part 1′ – just listen to those 'ohhhhh' moments. You'll know the ones I mean.
"Nothing Broke" – Meursault
Bonus: "William Henry Miller, Pt. 1 (Single Version)" (purchase)

~~~
The debut album of London's Mumford & Sons is nothing short of wonderful. A little bit bluegrass, a little bit alt-country, it combines gorgeous instrumentation and harmonies to create an album that is both rollicking and melancholy all at the same time.
There are so many highlights on this album, from opening track 'Sigh No More', which takes its inspiration from the words of Shakespeare, to 'The Cave', 'Winter Winds', 'Roll Away Your Stone' and 'White Blank Page'. Expect more great things from these guys in the future.
"White Blank Page" – Mumford & Sons
~~~
Roadside Graves – My Son's Home
Capping off my top 5 is New Jersey's Roadside Graves. With a name that sounds more like a metal outfit than a troupe of country rockers, these guys have created a richly narrative driven collection of songs. Each track touches on death and mortality, exploring it through the use of husky vocals, tinkling piano, multiple tempo changes and countless sing along moments. This album has accompanied me on many a road trip and many an evening run and remains a frequent favourite.
Highlights include 'Ruby', 'Far And Wide' and 'Valley'.
"Far and Wide" – Roadside Graves
~~~