Captains Dead Blog joins in the fray at Day 10 of the "Best of 2009" Blogger crew with a list that apparently requires a stroll down memory lane.  Honestly, this stroll is one that could be rightfully taken out of yours truly's memory banks….almost.  Regardless of the payoff being quite a spectacular list, it just might be worth it for a photo of Greg at 9 years old…
~Smansmith
~~~
The year was 1983…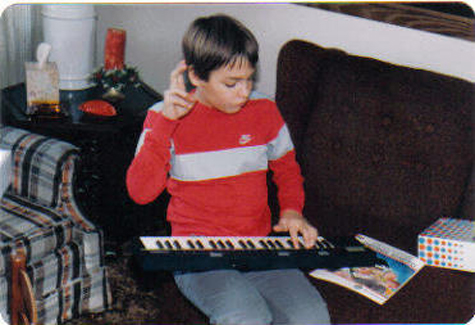 …the year when I started participating in the obligatory yet mildly excruciating, I would come to realize, tradition of creating end of year lists.  What drew or prompted me to create such a list, I don't really quite remember, but I blame either Casey Kasem or my buddy Dominic's old bro, Dan.  No matter how I got there, really, all that matters is that I did…and have every year since.  For those keeping score that would be 26 years of em.  Ouch!
For those that weren't around in 1983, or maybe not paying attention, but that year featured two records of epic proportions.  Committing hari kari seemed like an easier choice than having to decide which one would be my favorite.  I thought if I chose one over the other the other band would somehow find out and I would be responsible for their breakup or at very least some very hurt feelings.  Yet I moved past that, and proclaimed there could be only one!  The days leading up to 1984 were incredibly stressful, cause I knew my choice of record of the year, 1983 could not be made in haste.
To help ease the pressure and maybe clear my head, I participated in some very intense games of pitfall and barnstorming but all the while I listened to each repeatedly.  As it turns out, both were perfect soundtracks to my 8 bit attempt of escapism and only made me more confused.  Frustration began to set in and I was not amused.  I may have cried, I don't remember?  Days turned to nights, nights to days and I was still without any resolution.  Then on December 30, 1983 over a delicious meal of Swedish meatballs my mother had prepared it hit me.  The choice was so obvious, but my judgment was clouded.  What could possibly cloud a 9 year old's judgment you maybe asking yourself?  Well, one of the bands in question had/has a saxophone player, and guess what?  I played sax too!  Its like I was in the band!
Yes, my favorite record of 1983 would be Styx's groundbreaking release Kilroy was here.  A concept record about robots taking over and replacing mankind.  I mean seriously, the record is about freakin robots!  Sure, I didn't get the whole concept thing nor did I really care.  Again, it was about robots!  Hello, Mr. Roboto?!?  Maybe you've heard of it?  Oh, yeah the other record in question was Huey Lewis and News' "Sports".
What does that story have to do with anything?  Absolutely nothing.  Yep, you just wasted possibly 2-3 minutes of your time reading nonsensical drivel.  So, to make up for it, I present you my top ten favorite songs that didn't appear on any of my top ten favorite records.
1. Heartbroken, in Disrepair off Dan Auerbach's "Keep It Hid"
2. Ojibway Diner off Ox's "Burnout"
3. What About Us off Doug Paisley's self titled record
4. Mama's Eyes off Justin Townes Earle's "Midnight at the Movies"
5. Who Stole the Soul off William Elliot Whitmore's "Animals in the Dark"
6. Restless Year off Caledonia's "We Are America"
7. When They Fight They Fight off the Generational's "Con Law"
8. Gas Tank off Truckstop Coffee's "For Dear Life"
9. New Paris off Strand of Oak's "Leave Ruin"
10. Come Dig Me Up off the Tailors' "Come Dig Me Up"
~~~