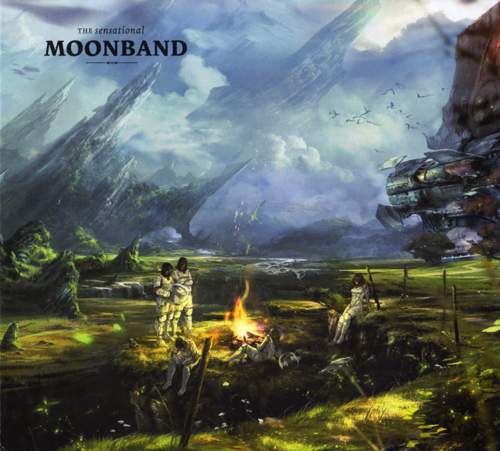 The Moonband say something that resonates with me on their MySpace page in their description of "what we sound like".  Essentially they indicate that they record alternative folk but let you know that folk is all encompassing – as is the sound of The Moonband.
The 'sensational' Moonband pseudo themed space odyssey is definitely rooted on the prairie farmlands and acoustic porches of wherever you would call home.  With a title like "Songs we like to listen to while traveling through Open Space" or "…Open Space" as it's known, you know right away that there must be something going on here.  You may get the impression of some progressive post rock epic, but in turn you get a warm collection of acoustic folk and indie pop and even a touch of Americana to finish it off.   I even noticed that (for me) there is even a bit of kickin' up the heels with a songs like "Roll On Blues" & "Top Of A Tree" – and while I tend to enjoy the slower moments such as "Devil Got a Piece of Us" and "In the Garden" you know that you aren't getting a carbon copy of tracks that simply have different song titles but carry on the exact same song vibe from the previous track.    For a band out of München Germany, they could easily be compared to a dusty road folk band out of the southern US.
The Moonband are also an actual band (rare around this blog of singer songwriters, I know!) and this also helps the album bring a bit of a fuller sound to the late 2009 release.  There are up to 4 vocalists listed in the liner notes and it shows with numerous harmonies and layers in songs like "Tom Waits" and "Days to Live".  I think it is also the fact that despite being fairly acoustic, they do not sit contently with a guitar but bring mandolin, Glockenspiel, ukulele, banjo, Lap Steel and stand up bass…you can't go wrong with all these strings!  For this post I want to feature two songs that are quite stellar (no pun intended) that show the slow and aching side (The Hiker) along with a bit of German American folk (Boogeyman).
If you have the time, I recommend a full listen (and a visit to the experience that is their website).  Something else I think needed mentioning is for you to order the physical CD – the images and "background" info is part of the charm of this release as well.  From the hints on tabs to play each song to the "space" theme of the challenge for us having 5 fingers in order to play an instrument with 6 strings….silly humans!
~Smansmith