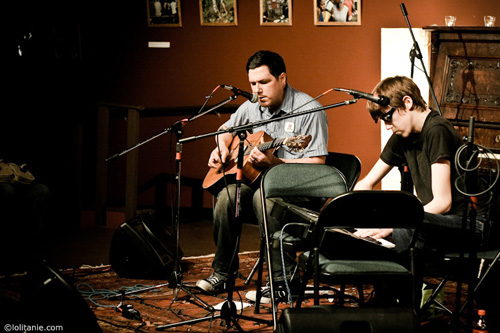 Photo from lolitanie.com (Visit for more!)
I am not going to lie, I was biased going into the album from the brothers Jurado (Damien and Drake). Quite biased as Damien Jurado is an all-star around my place. Well folks, if this is a "side project" of which it has been ill-labeled as, I am fine with this not being on the side but being the new face of Damien Jurado…as Hoquiam. You might also remember newcomer Drake from Damien's video for Caskets, which is one of the best songs to video imho.
Released from St. Ives (part of the Secretly Canadian family) on this coming Tuesday, February 23rd is one of the best albums I have heard in a long time (I did say I was biased, right?). It is described as "dark early 60's garage feel" and including "gothic folk and personal narratives" with my personal favourite description from the label "Sparse, desolate, and a place you will find yourself passing through from time to time" which is a nod to the fantastic track "On the Beach". The album contains such a personal experience (or is narrated as such) of growing up, the struggle of relationships and life in the Pacific North West.
The album definitely has an "oceanic" theme to it, which fits into it feeling like a semi-autobiographical story of growing up in "Hoquiam, WA". Just to make sure we are all on the same page, Hoquiam is a real town and the birthplace of Drake. With the addition of Drake to the established sound of Damien, we definitely move to the aforementioned gothic part – these songs are just small vignettes of small town life…if not the darker versions of themselves. The thing I can't express to you more is the fact that the album while being nigh with dark, foreboding stories is told soo well and crafted beautifully. I do admit it is the achingly sober tracks that really hit me straight in the mouth as it sits agape, songs like "Hope Ocean" and "Gallons" are stunning. They are sparse and move at a hauntingly slow pace with Damien's rising voice chanting of failing parental relationship in Hope Ocean to his sobering admission of "I could kill you for no reason" in Gallons. While yes, this does sound incredibly disturbing to many, it can be stunningly beautiful at the same time – whether it is real or not, it could be slices of real life and it is told with an unmatched honesty.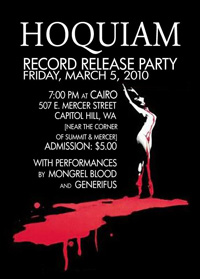 Okay, now that I have got the point that the album is not a day skipping amidst daisy fields in spring, the album isn't just a collection of 'sad bastard songs" as it is broken up with more up tempo songs (an album of 17 tracks as well!). These are the types of songs that make you think of earlier Damien Jurado albums, but with a bit more growth and production value. The album has songs like "Fake Teeth" and the practically jaunty "Mo Clips" complete with hand clapping sing along to bring you out of your funk. Man, I love this album. The one note I have is (even if done on purpose) there is a slight disconnect between some songs in recording levels. While most of the album is on the lo-fi side, some tracks are full on professionally recorded which can cause a slight jarring if you are not following tracks in order on the release (my Itunes mixes it all around so merging "Gallons" to "Mo Clips" just might cause whiplash).
Overall, I have to say that this is the best album I have heard all year so far and it shows definite promise to hold onto that title…who knows Damien is releasing his next solo album soon….
Please consider ordering/pre-ordering a copy of Hoquiam on limited vinyl over at St. Ives HERE. They are all individually created covers as I couldn't even get "official" cover art due to the unique-ness of each cover! Can't wait to get mine. Currently I don't see an option for CD, but can only assume a digital component will arise after next week as well.
"Zombies of the Sea" – Hoquiam, 2010
Bonus: "Hoquiam" – Damien Jurado, live at Hotel Cafe
Visit Hoquiam:
~Smansmith
p.s. You might want to visit my first post on Hoquiam from back in August of 2008 with some very early demos ripped from MySpace (moved to streaming due to album release, sorry)…