Top photo (marquee) by Robert Loerzel (Underground Bee.com)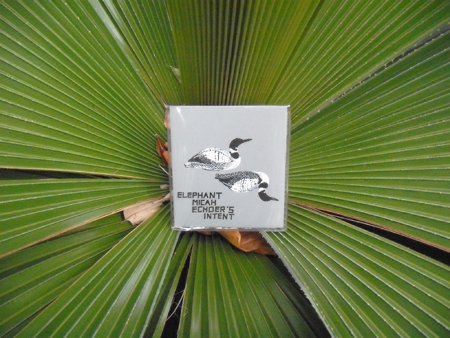 So you know I am a fan of Joe O'Connell's musical prowess that he flexes with his Elephant Micah persona.  It is just so good.  When he slows it down, his vocals simply kiss the landscape of his open prairie folk fusion sound.  He brings some of the most melodic tracks with solid lyrics (he also writes poems and in his "spare" time) and at times a bit of lo-fi fuzz for good measure.
The first release (pictured above) is "Echoer's Intent" and is described as:
"…minimal, mostly live recordings…fully foreground Elephant Micah as a writing and solo performance project."
I have ordered this limited CDR already but have only heard the first track called "Loon Call" and it is truly a masterpiece from EM and going into my favourite songs he has recorded.  Completely acoustic, this track has some of the most straight forward singer songwriter guitar work and brings O'Connell to the forefront where he belongs.
"Loon Call" – Elephant Micah (HIGHLY recommended)
~~~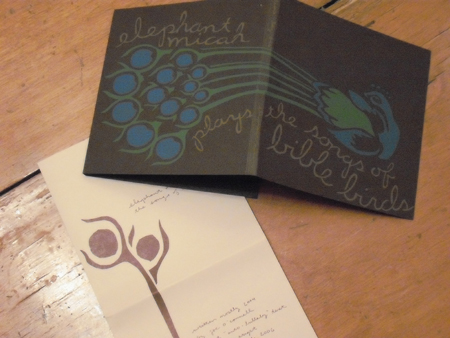 The second release is "Elephant Micah Plays the Songs of Bible Birds" which is apparently been in the works for about 3-4 years now and can be considered the pre-cursor to his "And The Hindu Windmills" album.  It is for country folk and on the lo-fi side by the sounds of the first sample "Loop and Lil".  If you visit the purchase link below there is a great little story on how this album was supposed to be a faux cover folk album from a non-existent band….a concept that would have been fantastic!  He had some help from Beth Remis (of Pillars and Tongues who I actually saw open for Bonnie 'Prince' Billy and totally were a highlight) to arrange and sing alongside of.  Can't wait to hear the rest of this…I hope you all are too.
"Loop and Lil" – Elephant Micah
Visit Elephant Micah on his website HERE and order both the above from Time-Lag Records HERE.
TOUR DATES
FEBRUARY
26 Los Angeles, CA at the Music Castle
27 Los Angeles, CA at Echo Curio w/ Powerdove [Early Show]
28 Los Angeles, CA at Pehrspace w/ Ben and Bruno
MARCH
2 Santa Barbara, CA at the Biko Co-op
3 Santa Cruz, CA at Crepe Place
4 San Francisco, CA at TBA
5 Davis, CA at Nadav's House
7 Chico, CA at Café Flo
8 San Francisco, CA at Bottom of the Hill w/ Delta Spirit
10 Eugene, OR at Sam Bond's Garage w/ Old Lights
11 Portland, OR at Kristen's and Adam's House
12 Olympia, WA at the Cherry Loft w/ Lougow
13 Port Townsend, WA at the Boiler Room w/ Lougow
14 Vancouver, BC at the Shed w/ Lougow
15 Seattle, WA at Bluebird Ice Cream w/ Lougow
16 Bellingham, WA at TBA w/ Lougow
II. ELECTRIC PERSEVERANCE REVIEW
All shows with Time & Temperature
26 Louisville, KY at the Lounge w/ Joe Manning
27 Nashville, TN at Betty's w/ Kelli Hix
28 Memphis, TN at the Buccaneer w/ the Warble
29 Oxford, MS at TBA
APRIL
1 New Orleans, LA at Sidearm Gallery w/ Hurray for the Riff Raff
3 Athens, GA at TBA
4 Chattanooga, TN at JJ's
6 Somewhere, TN at Ida
7 Asheville, NC at Harvest Records
8 Knoxville, TN at the Pilot Light
9 Lexington, KY at the Hive
III. ROUGH ROUTING
All shows with Mark Trecka except where noted (*)
13 Grinnell, IA at Grinnell College
15 North Manchester, IN at the Firehouse
16 Buffalo, NY at Sugar City
17 Rochester, NY at Casa Del Awesome
18 Montague, MA at the Book Mill w/ Oweihops
19 Portland, ME at TBA
21 Boston, MA at TBA
22 New Paltz, NY at the Inn
23 Purchase, NY at SUNY Purchase
24 New York, NY at TBA
26 New York, NY at Bruar Falls w/ P.G. Six*
28 Philadelphia, PA at Robin's w/ Strand of Oaks
29 Baltimore, MD at 2640 Space w/ Small Sur
30 Columbus, OH at TBA w/ Time & Temperature, Deadsea
MAY
1 Chicago, IL at TBA
~~~
~Smansmith
p.s.  Bonus track for reading this far down after the tour dates,  "The Ecstasy (Insomnia Plus One)" – one of my ALL TIME favourite songs – totally lo-fi, a bit fuzzed out and completely stunning.