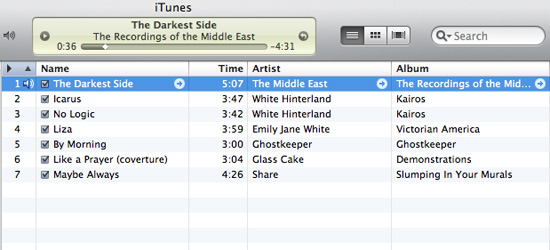 So I never said I was first on the spot when music gets announced or promo'd but there are some pretty decent tunes that are new to me that I am spinning, so I thought I might need a Monday playlist.  No real connection other than the fact that I am listening to each individually and not part of the album (except for maybe White Hinterland) or any sort of back catalog – all individual tracks to me over the last week or so from the ol inbox.
"The Darkest Side" – The Middle East (I know, I know, where was I on this one already – AND they are touring with Mumford & Sons!) beautiful slowed down love ballad.  (visit)
"Icarus" & "No Logic" – White Hinterland, from the just released "Kairos", worthy psych folk. (purchase)
"Liza" – Emily Jane White, from the upcoming "Victorian America", so good.  (visit)
"By Morning" – Ghostkeeper, from the just released self titled album.   A bit of a jangly indie pop track, but they are from Calgary, come on! (visit)
"Like A Prayer (coverture)" – Glass Cake, yes it is a Madonna cover done overly lo-fi and it's fantastic! (visit)
"Maybe Always (ft Jenn Grant)" – Share, from 2009's Slumping In Your Murals (visit for a 3 track EP FREE) – they are playing The Palamino here in Calgary on Thursday, March 11th as well.
There you have it, another blogger "mixtape" for your Monday!
~Smansmith