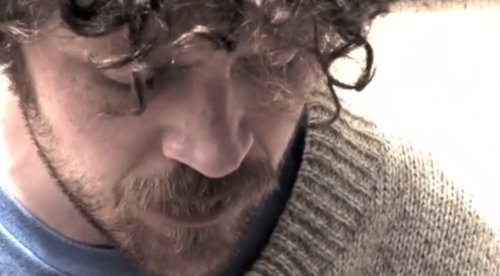 The fact that you might not know who he is or have a hard time finding information on Fred Squire is a problem. Possibly the only problem with Fred Squire. Outside of Sackville, NB and area (Eastern Canada) you might find yourself not knowing Mr. Squire at all or possibly only knowing him due to his efforts with Canadian indie darling Julie Doiron. While all good and well (A LOT of people can do worse than having Julie Doiron as a collaborator!) I need you to stop and see Fred(erick) Squire himself as your center of focus. Even as a Canadian "indie music blogger" I barely feel any authority in talking about him as I know soo very little. I know a little more now with the help of my Canadian Blogger Mentors (to now be known as CBM) over at Herohill and the good folks at Pigeon Row PR. Frederick Squire has a new EP…I think.
The new release is a self titled CDR that I believe is basically only available to locals and concert goers alongside friends/family (and some bloggers). So to revisit the theme of this post, I find it hard to actually become a true fan as I have so very little of his works, but what I find is fantastic. All I really have is that essentially he is a singer songwriter from the East Cost of Canada, so you know being a damn fine musician is in his blood. You should also get a good idea of his vibe due to the collaborations he has been a part of such as the Mount Eerie "Lost Wisdom" album (great fringe folk) and the new Daniel, Fred & Julie album (a bit more traditional folk). While both great, they are completely separate from what I hear on this new release – this is all Squire and totally consuming. I mean, I knew I would like it, but sometimes you want to like something more than you actually do, and this actually gives you back enough to fill whatever expectations you might have had. You have tragic lamenting ballads like "You Sing High, We Will Sing Low" and "Frankie and Albert" alongside a bit more uptempo (but still a pub at half speed) "Old Times Past Times". You even get some atmosphere to either set the mood or cleanse the pallet with "Theme From a Northern Movie" and the achingly beautiful, instrumental "End of Previous Song". I actually find "End of Previous Song" almost the song you have to hear first – in my mind it brings you a sombre, folk experience that pines for more as it could also be the "Start of a New Sound" for many. Recommended if ya can find it.
Listen to "new":
"Frankie and Albert" – Fred Squire, 2010
~~~
Watch "not so new":

~~~
Enjoy one of those collaboration tracks:
"Runner" – Daniel, Fred & Julie
So if you have a chance to see him perform (Daniel, Fred & Julie have upcoming shows, see their MySpace here) definitely take the time to see him, if you can find more material, pick it up!
~Smansmith