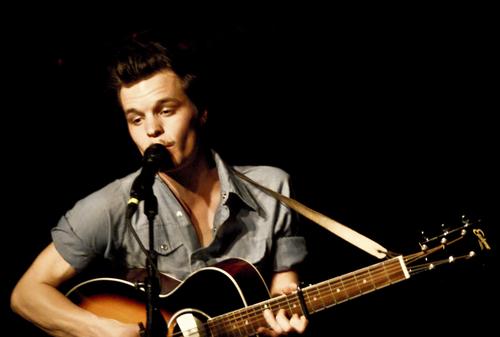 Looking forward to this one, a lot.  The Tallest Man On Earth is coming to Calgary (and half the planet by the looks of the dates listed on his MySpace and Dead Oceans site) – but alas, I am very excited that among the many tour stops, this Swede will be Canadian for at least one day, May 15th.
Kristian Matsson who performs under the moniker of The Tallest Man On Earth is someone that everyone says you have to see live – by everyone, at least 3 of my friends have seen him at least once and say it is truly great.  As these folks know what they are talking about, I am quite excited to see this finger picking folkie do his thing at Local 522 here in Calgary.  The fact that he has released two albums (by two I mean one officially, with one that has leaked but officially released on April 13th, 201o) that are both incredible is a feat in itself.  While his sound is not the sound for everyone, often described as a modern day Dylan (I don't like that description, regardless of his MySpace indicating Dylan as an influence) I think that takes away from some of the best modern/60's songwriter folk around.  He has the sound that both gets you out of your seat with upbeat and almost frantic beating on his guitar (King of Spain) and more subdue (Burden of Tomorrow) as well as down right stunning slow burners (Kids On The Run – piano instead of guitar on this amazing track).  While "The Wild Hunt" is a bit more straight forward and his "Shallow Grave" being a bit more intricate in my opinion, I think they both compliment him well and are worthy of a show (or two).
I also know statements as "this is the singer/songwriter of our generation" get tossed around for numerous artists, I for one think Mr. Matsson's hat is in that ring.  Take a listen below
"Burden Of Tomorrow"
"King Of Spain"
from "The Wild Hunt" – April 12, 2010 (Dead Oceans)
~~~
The opening band are the label mate of TTMOE in the psych-folk band Nurses.  I am excited to hear these guys live as I have heard the album and it is definitely interesting with moments of great clarity (Technicolor), so I think it will be a great addition to the show.  Actually fellow blogger Geordie at You Crazy Dreamers had their album "Apple's Acre" on his top 10, so I tend to think it is worth more of a listen.  You should to.
"Technicolor"
"Caterpillar Playground"
from 2009's "Apple's Acre" (Dead Oceans)
See all you locals there!  TICKETS HERE.
~Smansmith