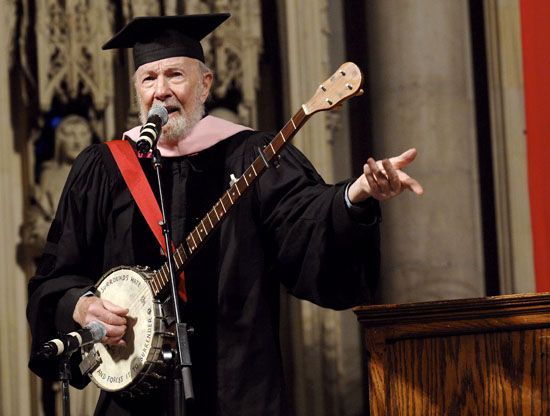 (Photo by Donna Ward/Getty Images)
Thought I would put the good old blogger "Mixtape" for Saturday with some tracks that have been getting some decent play around Slowcoustic HQ along with some new ones I just started listening to.  Some are from upcoming albums, some are from albums a few years old, some aren't officially released at all.  Hope you enjoy this rag tag bunch of tracks loosely combined for a nice little playlist to import for that next moment you need some solid "folky" tunes.
Starting with a new one from an album that I am very much looking forward to – The Mountains & The Trees upcoming "I Made This For You" (due August 2010).  Jon Janes who records under the moniker of The Mountains & The Trees is just the kind of guy you wanna know: he is an almost overly friendly guy, plays a mean banjo and has an almost unhealthy appreciation for the Canadian Broadcasting Company.  You gotta like that in a guy.
~ Enjoy "More & More & More" from the upcoming album.  Pre-order the album HERE.  **look for a "bonus track" from this album on our upcoming Yer Bird Records compilation in July!
Another song that has been getting more play is from Brad Senne.  Despite the album being a 2009 release, it has been a bit of a sleeper and I personally loved the album "Aerial Views" immediately.  It started with the fantastic "Sing & Dance" and has extended through the entire album.  It is definitely one of those pensive singer songwriter albums that draws you in.  Highly recommended.
~ Enjoy "Golden" from Aerial Views.  Visit Brad HERE.
Theodore recently did a Daytrotter Session (here) and it was crazy good.  While I find Theodore as an entity almost hit and miss at times because they have tracks that are mind blowing and then some that don't hit the mark (for me).  Maybe it is a band that do such great slow burners get stuck in that mindset for me so when they kick it up a notch I am always waiting in 1st gear…oh well.  This song is an all timer for me and the Daytrotter version is killer.
~ Enjoy "Back From The War (Daytrotter Version)".  Visit Theodore HERE.
I posted last weekend on Joe Hertler from Michigan and I mentioned that I was thinking of him due to a video post for Frontier Ruckus.  Well, I don't know why I didn't post this song, but because I didn't, here it is now.
~ Enjoy "Orion Town 3 (Frontier Ruckus Cover)".  Visit Joe Hertler HERE.
Drunk Country (of The Waiting Room fame) who is often a source of music for me has sent me in the direction of Björn Kleinhenz who I had not heard of prior.  Well I am glad he did as Kleinhenz has a piercing voice perfect for all the dusty towns and open plains that  "Americana Music" could ever hope for.  I found a split EP with Winter Took His Life who I had heard of, so what can I do other than provide a track from each right here!
~ Enjoy "We Will Burn" from Björn Kleinhenz and "Heaven On Earth" from Winter Took His Life.  PLEASE go get the rest of this EP (free download) over at his website HERE.   Also visit Winter Took His Life HERE.
To end, I am still reeling over that NPR Session from Elephant Micah so I am going to post another track from it.  Listen to a great live take of "Loop and Lil" which is from his "Plays the Songs of the Bible Birds" album that came out earlier this year.
~ Enjoy "Loop and Lil (Live on NPR)".  Find that album and more on Elephant Micah HERE.
Well that is it for now.  Other than the above, recommended listening includes that great new Sam Quinn album, Deer Tick and Matthew Ryan's "Dear Lover Acoustic Version" album.  Soo much good stuff right now…
~Smansmith