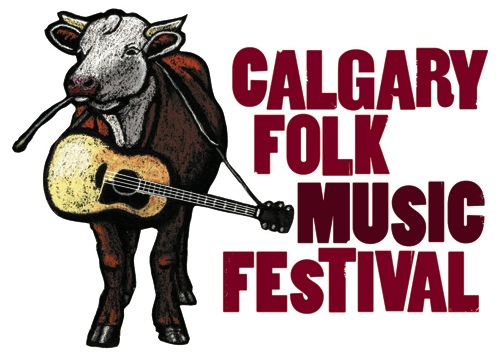 Last night kicked off my first day of the 2010 Calgary Folk Festival.  I think despite the constant threat of rain this night really did hit the spot!
Let me also start off by saying I am usually not a fan of "festivals" as liking a style of music that lends to a hushed and intimate setting, it can be a bit daunting to meet up with about 10,000 people in a large open area to listen to what is expected to be "folk" music.  You will notice the word folk has quotations around it as last night was a main stage only affair with 4 bands playing to open the festival: Library Voices, Natacha Atlas, Stars & The Avett Brothers.  Overall a good mix of music, but not really "folk" music.  I think you had to go with the comment Torquil Campbell of stars had: "It's folk music if its for the "folks", right?" – I think this was kind of the idea for the night.  I wouldn't call it a folk festival concert as much as an outdoor festival that took place during a folk festival…
To be honest, I only saw a part of Library Voices who jumped, belted out tonnes of charisma and really started to get the crowd into their infectious music – I thought it might have been a bit refreshing to see a band come in and be dressed all in spring whites/colours and getting the crowd awake (to say the least).
I didn't hear much of Natacha Atlas as at this time the crowds started to really grow and (let's be honest, I had to get another beer in before the Stars show) I was a bit stuck in a "beer gardens" for that hour.  We did manage to get to the Stars show which is when the crowds really started to get into the evening (despite one of the best parts being Samantha Savage-Smith being the "in-between" artist to keep the crowd interested before Stars took the stage).  Stars kicked it up a notch definitely and if the success of the set could be measured in "indie teens" then it was a very successful collection of songs.  Really good, but I tend to get a bit tired fighting through hordes of junior high tweens in order to see or hear anything.  I relegated myself to listening from the backstage(ish) press area by a serene river setting…nuff said.
But…The Avett Brothers were next and I wasn't missing it – they really put on a show and got the crowd to a frenzy!  These 4 guys (I believe they tour with 4 and are a trio normally???) completely got the crowd into it and it was bopping and jumping all around, including the guys on the stage!  Seth and Scott Avett are the humblest of guys and engaged the Calgary crowd with the simple use of the term "y'all".  We love that southern shit.  They played a mix of old and new (with the new getting the biggest roars from the crowd, which is expected) and they played practically the perfect set – mixed the barn burners alongside the down tempo ditties.  Overall, I would have to say the crowd was perfect and weren't just attending a festival main stage – the crowd that not so surprisingly changed from tweens to more college crowd/20-30-40 were there to kick it up and the Avetts did not disappoint.  Kudos, boys.
Find a few pics from the Avetts below (sorry our pics of the Stars were a bit off, but they may surface at some point):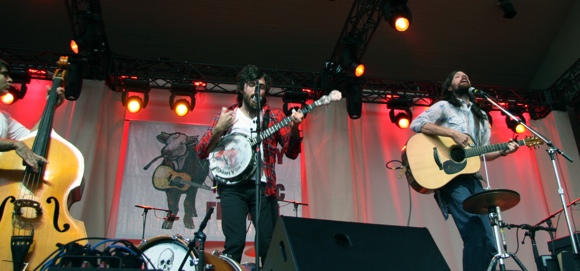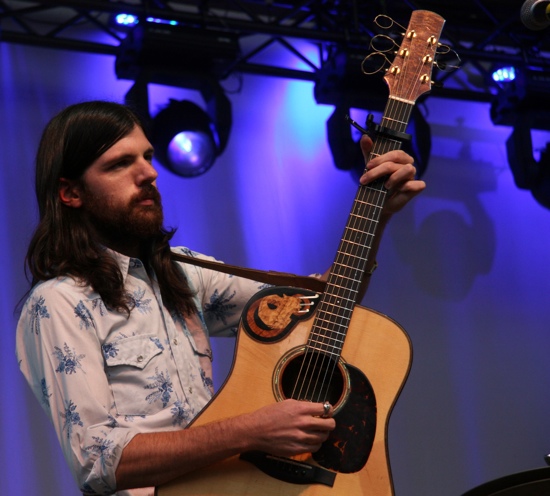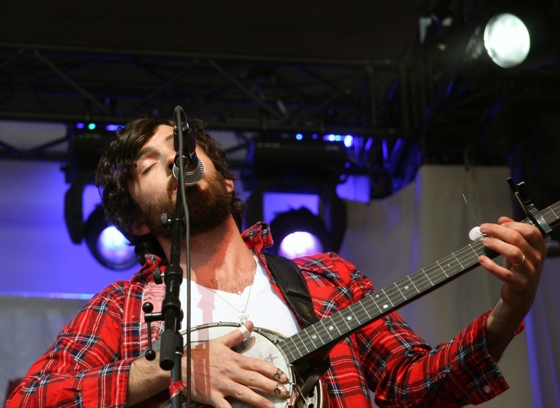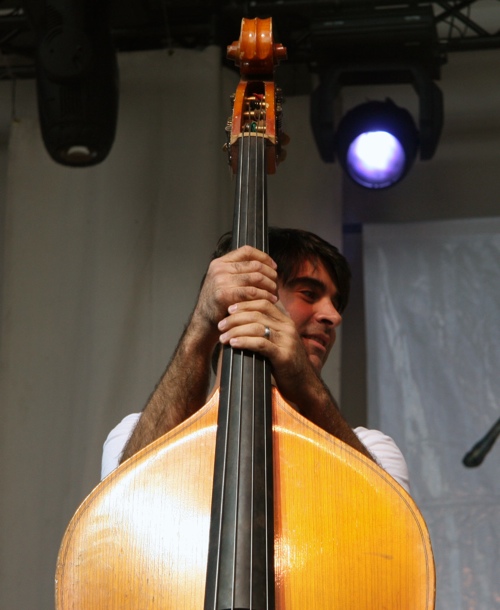 *All photos courtesy of Slowcoustic's wife (©Judy Smith)
There you have it – keep an eye out for more Calgary Folk Fest coverage over the weekend!!  Hopefully will have a couple of interviews and a lot more photos!
Enjoy a classic track from The Avetts from their "The Gleam II" EP – "Bella Donna" (mp3) (buy all their albums on iTunes)
~Smansmith