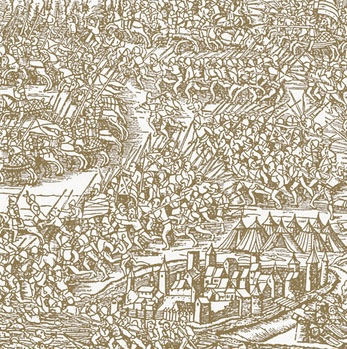 This album is due to a great recommended from fellow blogger Giuseppe over at Takes the Songs and Run, and if you are looking for a combination of Alt-Country, Americana, Indie Rock all with a sombre overtone, then the aptly named Lonesome Southern Comfort Company is also for you.
The new album "Charles The Bold" has a hymnal meets whiskey soaked bar feel…and that is exactly how I think it is supposed to sound and feel.  This is something you can drink in, swish it around, and wait while what might seem like a bite slowly mellows and soothes you into the their sound.  Take a perfect example of the song "Death at Nancy": you feel like you are taking a death march in the blazing hot desert of the South…but you are with the only people you would ever want to be around…so you need, nay, want to be on that death march as it slowly builds to its country rock end.  The album is refreshingly epic while still be laid back…it truly is a feat.
Listen:  "Horrible Town" – from 2010's "Charles The Bold"
The album just came out at the beginning of September and you can stream it all on Bandcamp HERE.  Visit on MySpace HERE and be their friend/like them on Facebook HERE.
~Smansmith