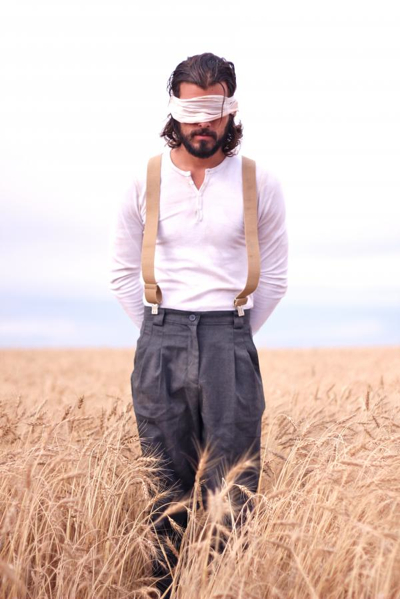 *Above shot is from the upcoming video/short film from Brock Mitchell for (or based on the song) "Devil's Time"
Reuben Bullock is one, if not best, of Calgary's best unknown "known" talent.  While having a robust and dedicated following in the local scene here in Calgary, Bullock is definitely slated for bigger things.
After sitting down with Reuben over a coffee you realize he is someone dedicated to his art.  He is staunchly Canadian in spirit and is a patient and well thought out young musician.  He is protective of the local art scene and supports local endeavors like the "Market Collective" that strive to bring the local scene out to both socialize and gain strength and support from each other.  Truly an admirable trait these days that he isn't in it to be a star – too bad someone didn't tell that to his passion for crafting quality songs.
Overall, the album was loosely released in a few months back (mid 2010), it is one of the best finds I have had recently and not so recently.  Unfortunately the album looks to only be available locally in a short run pressing but hopefully things are in the works to bring his music to more Canadians and hell, even the world.  His never wavering voice and amazing acoustic sessions do translate to the recording of Pulling Up Arrows, but some that are familiar to Bullock might think the album is "louder" or "fuller" than some of his stripped down, gut wrenching performances.  I am caught somewhere in the middle as I am always one for the lone troubadour but can appreciate the work put into creating a full album with some range.  You might find this fuller sound in songs like "Devils Time" and "Pendulum Sun", but where it really gets great for me are the tracks like "The Rain", "Haunted", "Eli" and even "Brother" (of which he has 2 that also enjoy talent in the music making arena).
After the above songs noted that find Bullock solo with a guitar, you have to get on board with him…especially if you find yourself reading this particular blog.  The tracks are catchy, but not in a cliche way, they are well thought out, performed with conviction and can be repeat listens without feeling like they get "worn out'.  Overall, the album has such high points that the parts that I find "only pretty damn good" qualify this for what could be a best of the year in Canadian Music.  I know local bloggers tend to lean towards their local talent for such claims, but this time I just might be right.
Listen to a favourite track for some convincing:
"The Rain" – Reuben Bullock, from 2010's "Pulling Up Arrows".
If you can, message him on MySpace and see about getting a CD, it will be worth it.  If you are local, you might find a copy at either Hot Wax in Kensington or Weeds Cafe in the NW.
~Bonus-
Via the folks at Calgary is Awesome & Shot At The Dark (highly recommended and where I originally "discovered" Reuben – see my blogroll and visit them) find a couple of videos:
~
"Haunted" from Pulling Up Arrows

SHOT AT THE DARK presents Reuben Bullock – Chapter Two from Shot at The Dark on Vimeo.
~
There just might be more than one Bullock in this one…

SHOT AT THE DARK presents Reuben Bullock – Chapter Three from Shot at The Dark on Vimeo.
~Smansmith