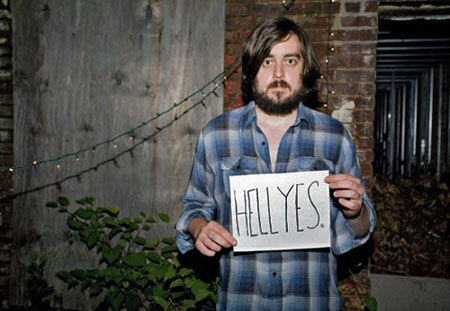 Okay, I'm a little partial to this one as Joseph Scott (White Pines) will be releasing his debut full length album with our label (Yer Bird Records) in a few weeks.  Aaand I find a video completely by luck from the good folks at Mostly Midwest from a recent show at the Orpheum Theatre in Hancock, Michigan where they taped him playing "The Armor" or as it will be called on the album "Armor".
The song is absolutely stellar; while still essentially being a folk tune, has a "wall of sound" (with a little feedback for good measure) that creates almost a "post-folk" sound, if that is even such a beast.  It is both delicate and epic, Joseph's vocals easily becoming part of it and I am often speechless while listening.  Yes, I am gushing, but ever since first hearing him a year or so ago I have been enamored with the songs this Michigan native creates.  Enough already, I know, watch and listen:
White Pines – The Armor from Mostly Midwest on Vimeo.
…wait to you hear the upcoming album version in headphones…
~Smansmith