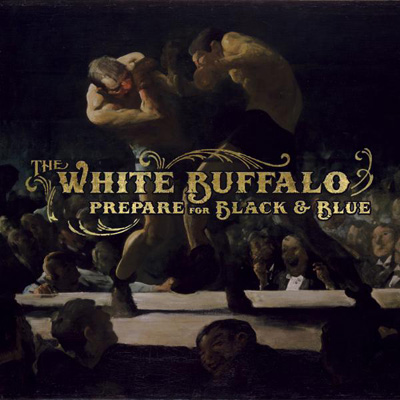 The new 5 track EP from The White Buffalo is great.  Hell, it pretty darn fantastic actually.  My race (and it is a race) for best EP of 2010 is heating up now…
If you are familiar with "BlancoBuffalo" you know that he creates some sad-ass singer songwriter Americana.  His tracks for "Love Song #1" and the new "Love Song #2" alone gets him on some sort of all star list for Slowcoustic lovers.  The new EP was just released this past week on November 2nd and has been on repeat on my iTunes at home and streaming via Rdio at work.
There is something about an artist who seems like a big burly man singing his heart out.  A broken man telling it like it is with stories of the road and the train-wrecks of relationships that just hit home for me.  I mean, I have never lived the life nor do I feel I could handle it as a person, but it makes for some of the best damn hard luck songs you will ever hear.  Not saying that I know what these songs are "really about" per se, but they aren't necessarily about puppies and picnics on summer afternoons.  The songs are real, visceral at times and something you can dig your teeth into; even if it is at half speed.
Let's listen to one of the more "up-beat" sounding songs for tempo, but still emanates what this aptly named EP is all about.
"Oh Darlin' What Have I Done" – The White Buffalo, from the EP "Prepare for Black & Blue"
Bonus video for "Into The Sun" also from the new EP:
The White Buffalo – Into the Sun

The White Buffalo | Myspace Music Videos
You can find "Prepare for Black & Blue" on iTunes.
You can find The White Buffalo on Facebook, Twitter, Myspace and his Website.
~Smansmith