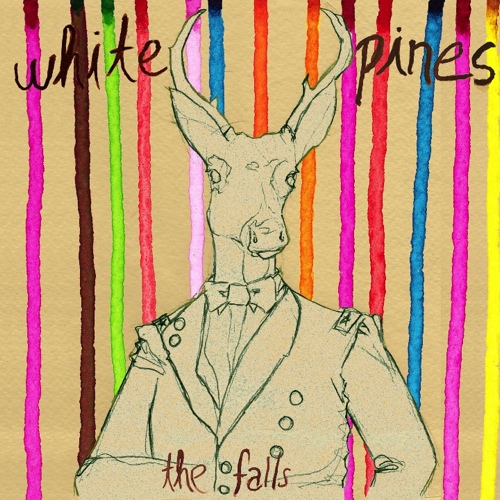 White Pines, The Falls.  I'm torn on posting here on this as the album is both absolutely fantastic and released by my label.  Torn on discussing the greatness of the evolution of a singer-songwriter or pandering to new "customers".  So, I plan on just rambling on about the album, so we'll call it even.
If you already know me or if you are familiar with Slowcoustic, you know what kind of music I tend to gravitate to.  You would also know that Joseph Scott (aka White Pines) had a previous EP released over on Jumberlack called "A Face Made of Wood" (see here).  That EP started my appreciation for Joseph and his music – the EP was crazy good and was on my best EPs of 2009 last year.  Flash forward to summer 2010 and I get an email from Tim Showalter to think about his buddy Joseph because he has a new album and its looking for a home.  Well, I immediately say "let's discuss" as Tim (who effectively released what will end up being my top album of 2010 with "Pope Killdragon") knows his stuff.  So there is a tidbit for ya, you can thank Strand of Oaks for Yer Bird Records releasing "The Falls"!
So here I am in my third paragraph and I haven't even touched on the album itself yet!  So if you have read this far, you might guess that I am trying not to gush or really get into it.  It is hard to describe great music well.  What I mean is, anyone can "review" an album but when you like it, you just like it and that is that…but I can try at least.  The Falls is a step beyond what Joseph has done in the past – he has elevated his game as some folks say.  Some might immediately see the album as a concept album and the more you listen, you might notice it to.  It is very connected and it tells of stories from life, but so are many albums…it is just Joseph Scott does it better than most.  Whether you feel "The Falls" is about a literal location along the journey where water and ideas flow over a proverbial edge of the earth or you feel "The Falls" is a play on words to describe the stumbles and set backs one finds in life.  You can take many things from all aspects of the album and I don't want to project my thoughts, but…just kidding.
~Audio Break~

"Woods" – White Pines

~~
Sonically, the album is bigger than one person or at least it sounds that way.  You will have layering of instruments that clearly no one person can play at one time and double tracked vocals by Joseph, but that is what makes this more than just a "guy with a guitar" album.  Not unlike Strand of Oaks bringing "Pope Killdragon" to life by moving in a larger/ambient sound, so is White Pines; with them being very different but excellent examples of what Independent Folk music is (hopefully) moving towards.  Listen to a song like the album ending "Warriors" and you have combination of softer acoustics of a more traditional folk song but as the song progresses, you feel the winds coming in and the song grows and turns into more of a sound-scape of wilderness.  Hear a song like "Half Beast" and sit stunned as a man sings an honest hymnal about his life and if it is even his anymore.  You have one of my favourites like "Armor" that is complete with percussion, piano and acoustics that brings waves of almost a wall of sound mid-way and then brings it all back again – a candidate for song of the year for me.  So, then…I like it?  No question.
That is all I am going to do; ramblings by a music blogger about an album he honestly believes in despite being tied to it by his own big bad label (sidenote: we really aren't that bad).  If you find the time and want an album that you can immerse into sonically or just wander the path of "tracks" that create the journey of a cohesive album…The Falls should be at the top of your list.
Find more White Pines: Label, Facebook, MySpace, Twitter
Purchase more White Pines: Label, iTunes (Ping), Amazon, Stream on Rdio (for the UK, see Spotify)
~Smansmith