Slow down, Molasses is a Saskatchewan band (yes, that's in Canada) that is coming out with their second full length release this coming March.  As far as albums go, this one has a little bit of everything – this is becoming a bit of a trend with bands in order to not be all "samey" and it really shows Slow down, Molasses…well, being a band…if you get my meaning.
The album is 9 tracks that span musical styles from indie pop-rock, almost Radiohead like moments and then all the way to an expansive wall of sound and still finish up nicely with intimate laments!  This can be a challenge for some bands to have such range in one album, but this prairie outfit don't seem to have any issues.   You have full on indie rock in tracks like "Late Night Radio" and "Wake Me Up At The Coast" then they about face and immerse you melancholy with "As Meant To Be" or "Bodies" or the absolutely stunning title track "Walk Into the Sea".  The band have also taken to full use of orchestral elements in their building of a fuller sound and it really works – now, why doesn't everyone have trumpet alongside electric guitar and a cello?  There is no reason not to and Slow down, Molasses show your ears how much they like it.
The album also has had some truly great contributors throughout the year or so it has been coming together…ummm, Julie Doiron and Olenka and the Autumn Lovers…very nice.  This is also why I feel like the new album is a larger sound and shows growth in SdM as a full on outfit – this could be one of the next great Canadian bands.
The lead off track is "Feathers" which is below along with the newest sampling, "Fade Out", which are both available from their Bandcamp Page.  Having a listen to both will start you on the journey that is this album, they almost sound like they could be from Side A and Side B or separate acts of a play, and not unlike the album – I like it that way.
"Feathers" – Slow down, Molasses – from 2011's "Walk into the Sea"

~~
Find our more on Slow down, Molasses: Website, Facebook, MySpace & Twitter
Purchase Slow down, Molasses: iTunes, Zunior & CD Baby
Upcoming Tour Dates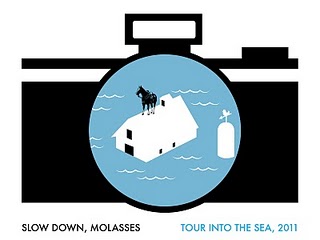 March 10 – Saskatoon – Caffe Sola Walk Into The Sea All Ages album release
March 11 – Saskatoon – Amigo's – Walk Into The Sea album release & tour kick off!
March 12 – Edmonton – Wunderbar w/ Jeans Boots and Jessica Jalbert
March 15 – Vancouver – The Biltmore w/ Jeans Boots
March 17 – Calgary – Broken City w/ Deadhorse and Scars & Scarves
March 18 – Regina – O'Hanlons w/ Jeans Boots
March 19 – Winnipeg – The Lo Pub w/ Jeans Boots, The Empty Standards and The Slow Dancers
March 20 – Thunder Bay – The Apollo w/ Jeans Boots
March 22 – Toronto – The Horseshoe w/ Jeans Boots
March 24 – Halifax – Gus' Pub w/ Jeans Boots, Dance Movie and Klarka Weinwurm
March 25 – Fredricton – The Capitol w/ Sleepless Nights and Writer's Strike
March 26 – Sackville – The Royal Canadian Legion – Shotgun Jimmie's cd release!!!
March 27 – Charlottetown – Baba's w/ Jeans BootsM
March 29 – Montreal – L'escogriffe w/ Jeans Boots
March 30 – Ottawa – The Raw Sugar w/ Jeans Boots
April 1 – Toronto – The Garrison w/ Forest City Lovers
April 2 – London – APK Live w/ Forest City Lovers
~Smansmith