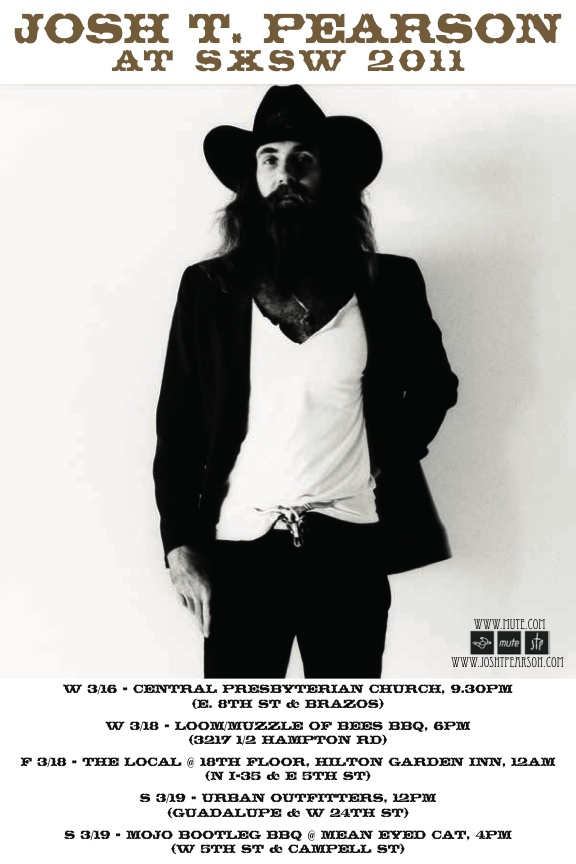 Okay, I admit I have not scoured the schedules at all or even really looked into it.  I am one of those bloggers that did not make the trip and I try to "forget" about SXSW partially due to jealousy and sheer rage.  Just kidding on the rage, I'm Canadian – let's get real.
I just wanted to officially give my support on the artist(s) I would absolutely not miss at this year's SXSW (music side of things) festival.  What?  No Kanye?  No Strokes?  No, this is Austin – you have to see some cowboys and try to keep it a bit "indie".  Okay, the top pick for 2011 is Josh T. Pearson as he has made a masterpiece in his first solo album "Last of the Country Gentlemen" that was just released in the UK this week (US/CAN at the end of March).  Listen:
"Woman When I Raise Hell (Alternative Version)" – Josh T. Pearson
I also recommend seeing him on Friday, March 18th at the Muzzle of Bees BBQ as you will get to see another Slowcoustic favourite in Strand of Oaks!  Tim Showalter (Strand of Oaks) had my favourite album of 2010, so why the hell would anyone consider missing this guy?  He has more shows, but he happens to be sharing the bill with Josh T. Pearson – two birds, folks.
~~~
Also, I think a great cowboy to go see is our boy Caleb Coy who has a show on Friday night (after you see JTP & SoO) around 10:30pm at Stephen F's Bar (info).  If you are looking for more along the lines of Josh in the cowboy variety, Caleb is your guy.  Listen:
"Suited Me (Richard Dobson Cover)" – Caleb Coy
So that is all I really have – 3 artist recommendations for those current and temporary Austinites.  Hope you all enjoy it, one day you will have to buy my a beer while we are all enjoying the warmth in some future March.
~Smansmith