*Artwork by Sam Richardson
Newest album out on our label Yer Bird Records is from Sam Watts out of Seattle and his debut full length from his musical moniker of Ghosts I've Met entitled "From A Spark"!  If you read Slowcoustic and are old school, you will know that I have been following GIM for a few years and well before we ran a music label and now we are working with him to get more of his music out there, and we couldn't be prouder of this album.
From A Spark is more of the sound that you would have come to know via his previous EP "Payphone Patience" in the way that you get slow pining piano, waning cello and sparse acoustics to fill out the signature sound.  The sounds created here seem so frightfully delicate that you almost need them to be playing softly, almost as if they are playing naturally in the background.  Okay, before we get to far, lets go back a year and listen to the title track from the EP, "Payphone Patience" for a reference to what you can expect from Ghosts I've Met.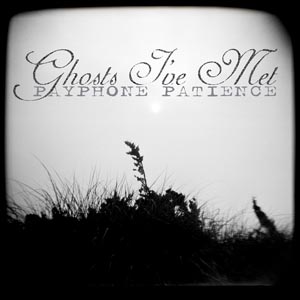 "Payphone Patience" – Ghosts I've Met, from 2010's EP, Payphone Patience
The EP was/is fantastic and only leads you into the full length From A Spark.  The songs were created over months living in Marfa, Texas and upstate New York and they almost tell of journeys of his place in the world.  Watts is a huge fan of both poetry and novels and it shows in these new songs as they have grown to become almost chapters in the story of this growing singer-songwriter.
The album had some "regulars" in the Seattle area that worked on the recording and once again they bring depth to the sounds of these ghosts.  Players like Jenna Conrad, Bill Patton (another favourite around here), Faustine Hudson, Anne Marie Ruljancich, Seth Warren, Brittain Ashford and Ben Blankenship.  They create music that Watts creates to become the ballads and laments that you want on a early morning, a chilly afternoon and when pondering the big things in life – mood music if I ever heard it.
Tracklisting
Blackwoods
Winters Ruin
Out With the Embers
Import
Slanted Light
Pale White Horse
Always, Clouds
From A Spark
Through the Snow
Stream the lead off track Blackwoods:
Ghosts I've Met – "Blackwoods" by Yer Bird Records
~
Bonus: Winters Ruin (The version from last years compilation "Folk Music for What Lies Ahead"):
Ghosts I've Met: "Winters Ruin" by Yer Bird Records
~
Swing by your favourite online retailer to pick up a copy of the album: iTunes, Amazon and Yer Bird Records.
Stream it on Rdio
~Smansmith